Ah, the city of romance! Venice is a destination that needs no introduction as her canals, bridges and pastel architecture have captured the hearts of travelers for centuries.
If you don't have a ton of time to spare, the compact size of the city makes it possible to see a lot. Today, I am revealing the top experiences to add to your itinerary if you only have one day to explore Venice in all her glory. I can promise that in this short time, the city will take your breath away with its charm, and you will be aching to return!
Marvel over the countless bridges and canals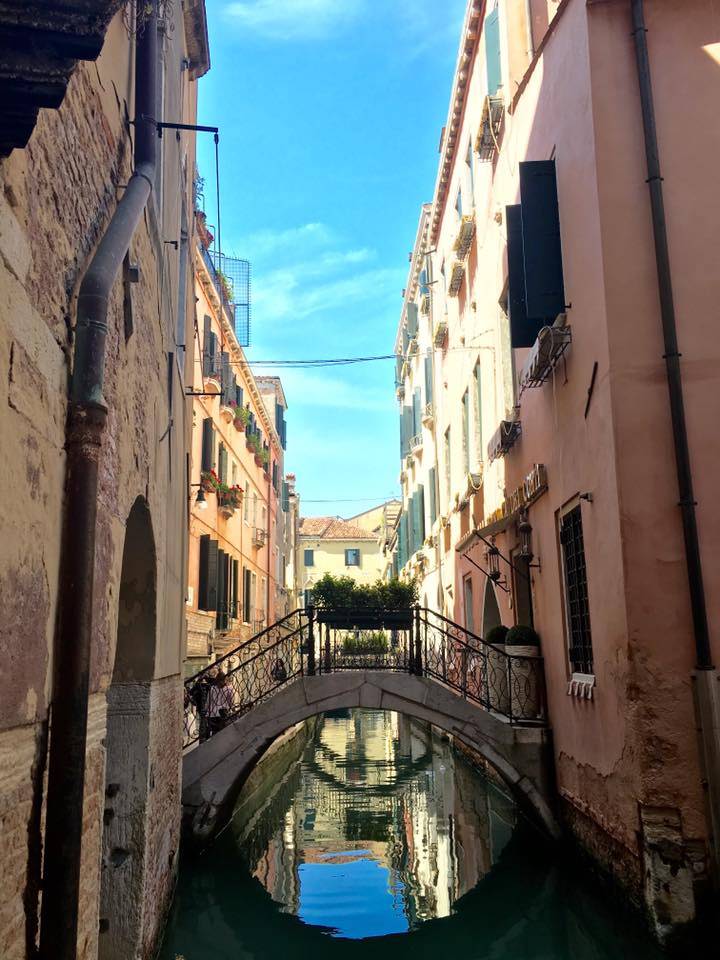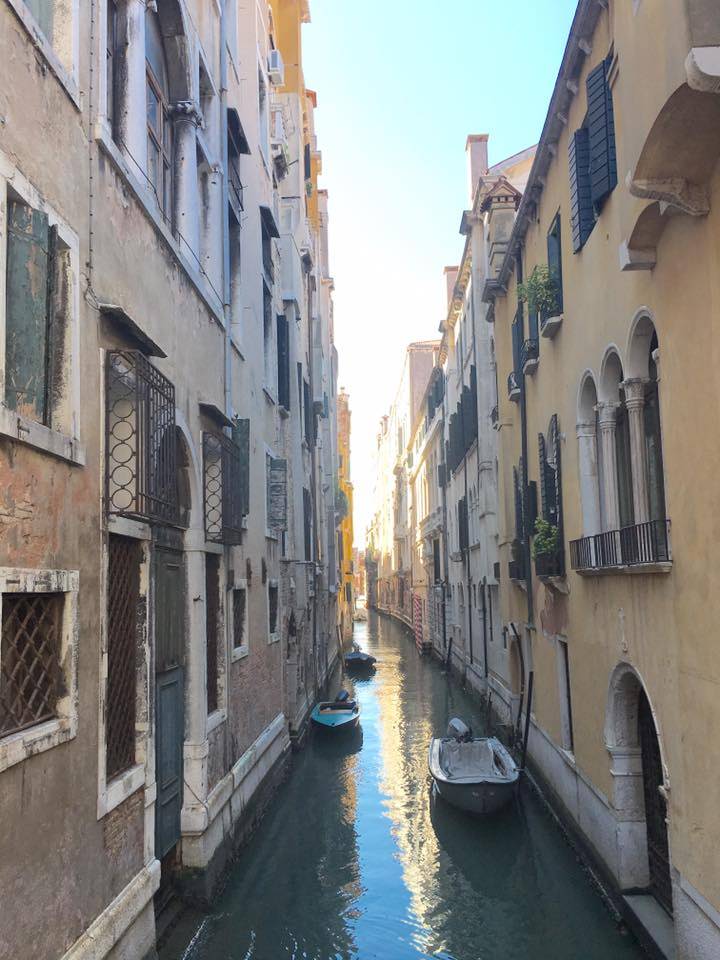 Venice is also known as the City of Bridges, and for obvious reasons. The city was built over the water, boasting 118 small islands, crossing 115 canals, and connected by over 400 bridges. 72 of these bridges are privately owned by locals!
Do these scenes not look straight from a postcard? They are even more gorgeous in person!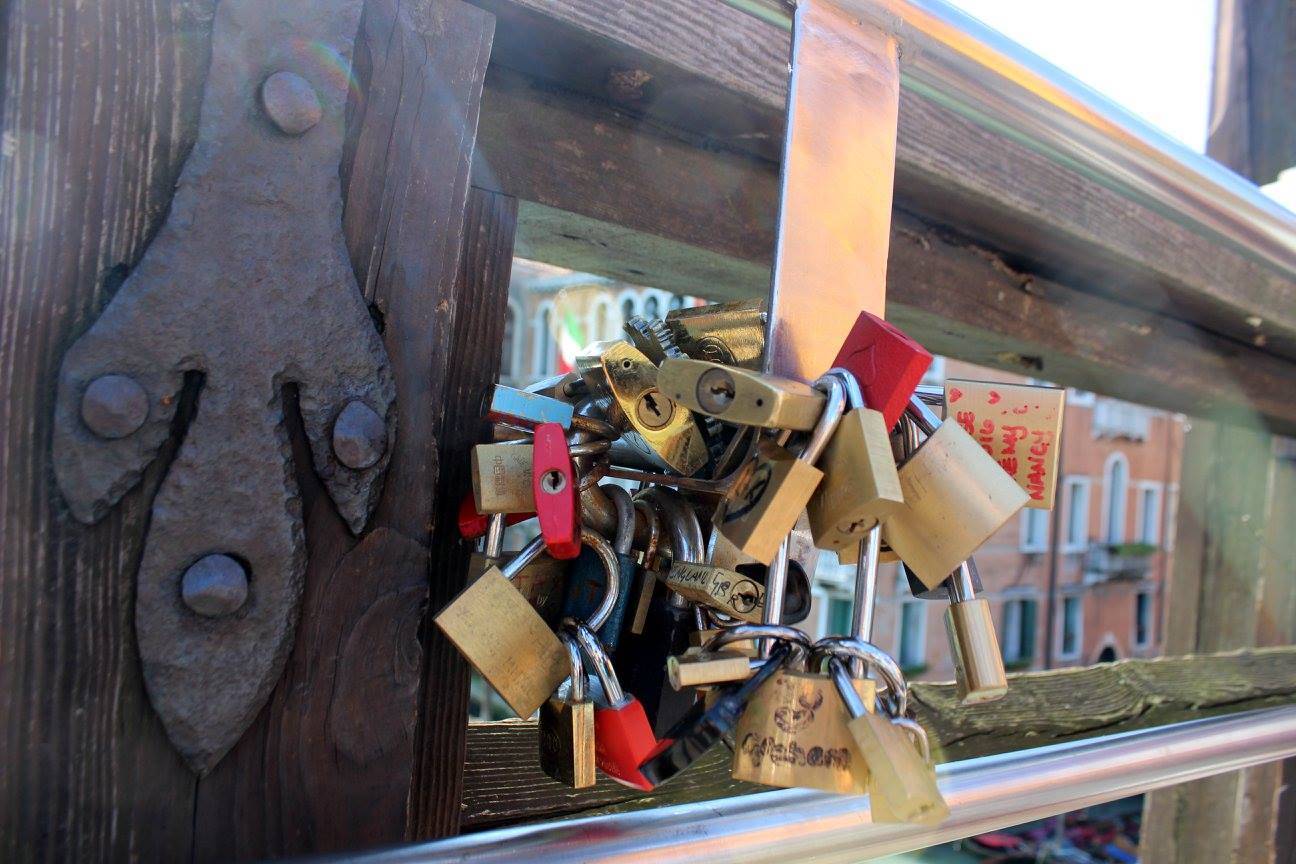 Can you spot the love locks adorning the bridges before they are banned from the city?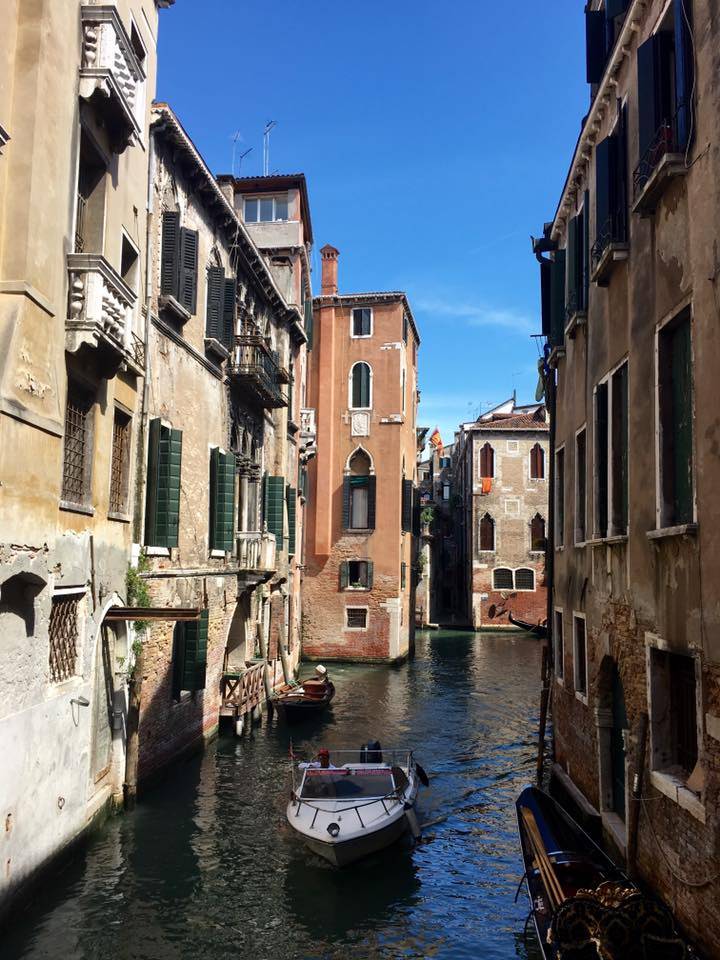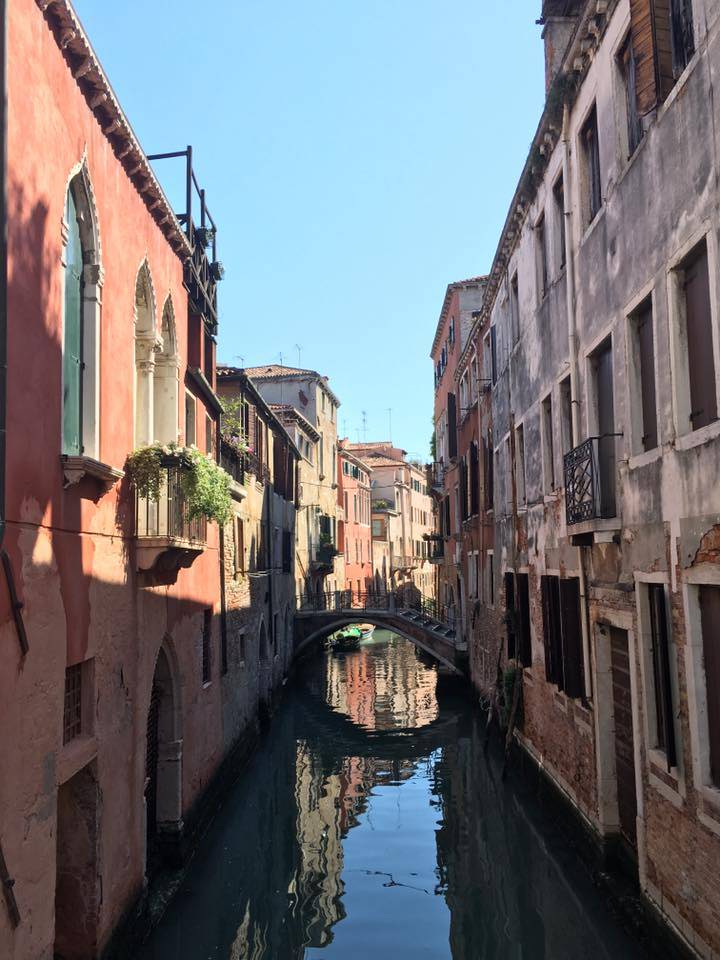 Perhaps the most infamous of them all, the Bridge of Sighs or Ponte dei Sospiri, connects Doge's Palace with the old prison. Look closely to spot a mix of joyous and depressed faces in its Baroque-style carvings. It has inspired the architecture of bridges in several cities around the world including England, Sweden, Germany, Scotland and the USA.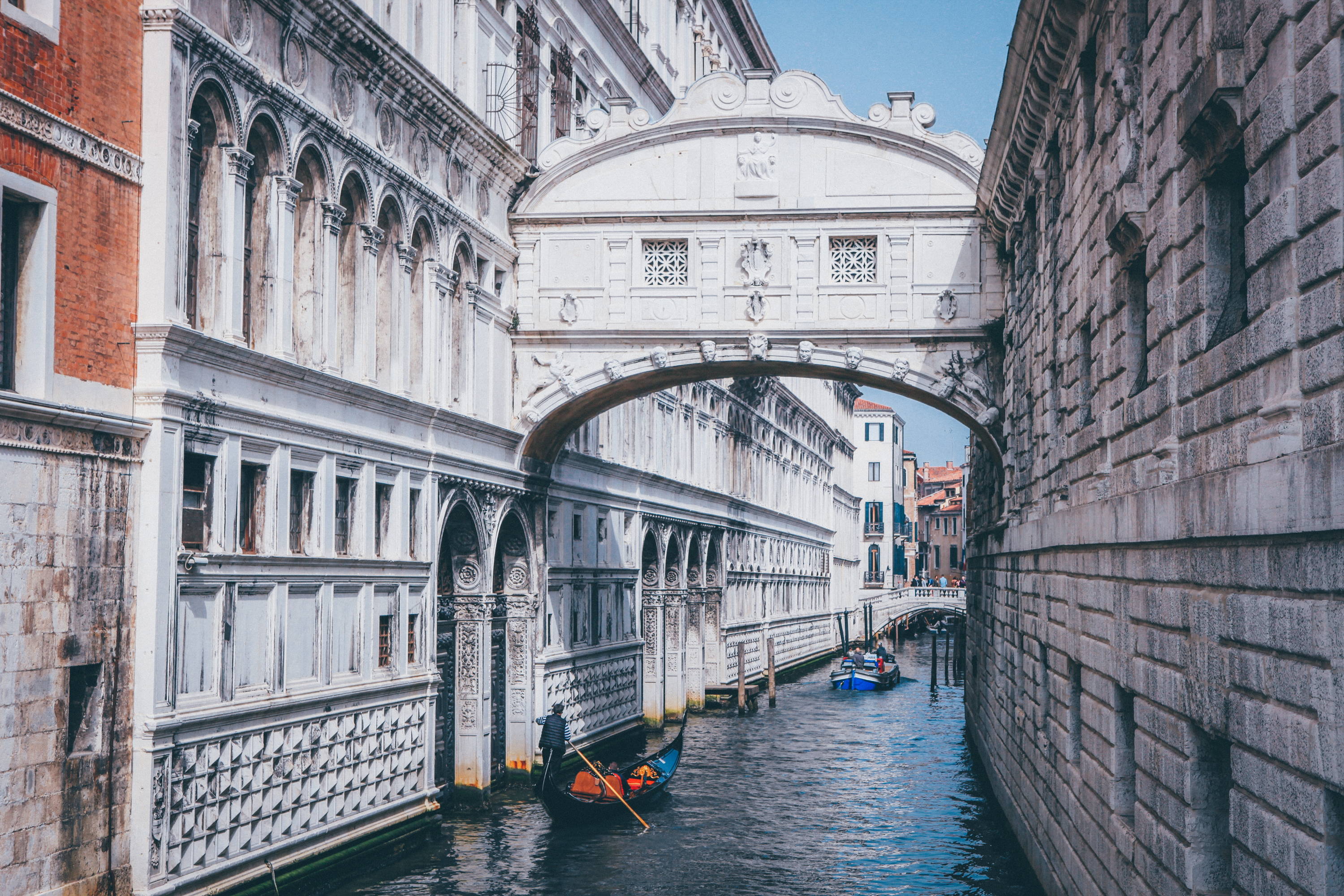 A far cry from its romantic peers, this bridge gave prisoners a final glimpse of freedom before banishment to barren cells or a sentence to death. Legend claims that you could hear the sighs of inmates as they passed over the bridge, hence the name. Another tale suggests that if a pair of lovers kiss under the bridge at sunset, they will enjoy eternal love. Which view do you believe – sighs of the sensual type or sighs of despair and desolation?
View the Grand Canal from the Rialto Bridge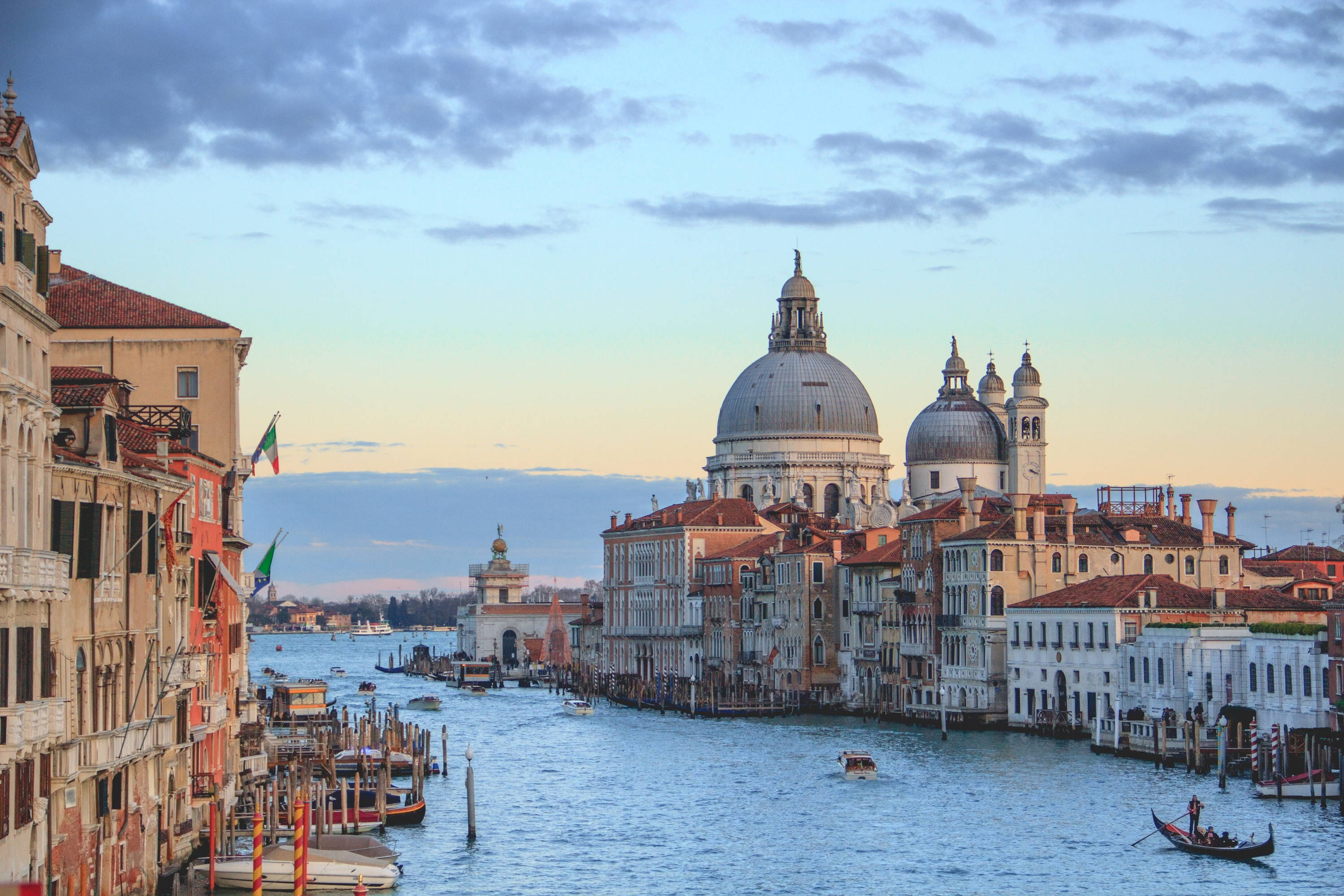 The Rialto Bridge or Ponte di Rialto is the oldest bridge in Venice and the most notorious of the four bridges spanning the Grand Canal. With a history dating back 800 years, it has undergone several reconstructions to become the forceful beauty you see today.
First built as a floating pontoon bridge, it was replaced by a wooden version in 1255. After going up in flames and then later collapsing multiple times under the weight of the crowds, the city learned its lesson. Sturdy stone replaced the timber in 1591 as the Rialto still stands today.

After gawking over the spectacular view of the Grand Canal and snapping that iconic selfie, cross the bridge from San Marco into San Polo district. Wander around the Rialto Market for fresh seafood at the Pescheria and seasonal fruits and vegetables at the Erberia. Impress your taste buds with food from where the locals and restaurant chefs shop. You will be relieved to find shopping and dining will be less expensive than in Piazza San Marco.
The fresh produce market is open Mon-Sat, 7:30am-1pm. The fish market is open Tues-Sat, 7:30am-1pm. Avoid ordering seafood at a restaurant on Sundays or Mondays since the market isn't open and the catch won't be as fresh.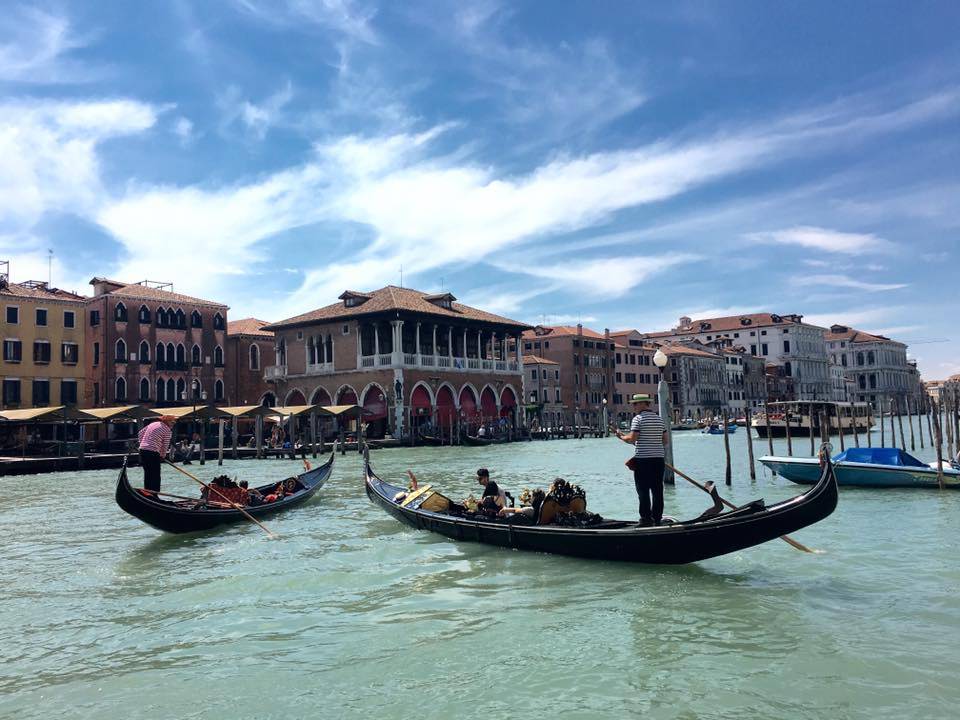 Ah, the gondolas of Venice. An experience we've all lived vicariously through the movies – until now! Glide beneath bridges and alongside cafes and flowered terraces lining the vibrant streets. Hundreds of years ago there were 10,000 gondolas in the city, but today they aren't used as transportation for locals, and only around 500 remain.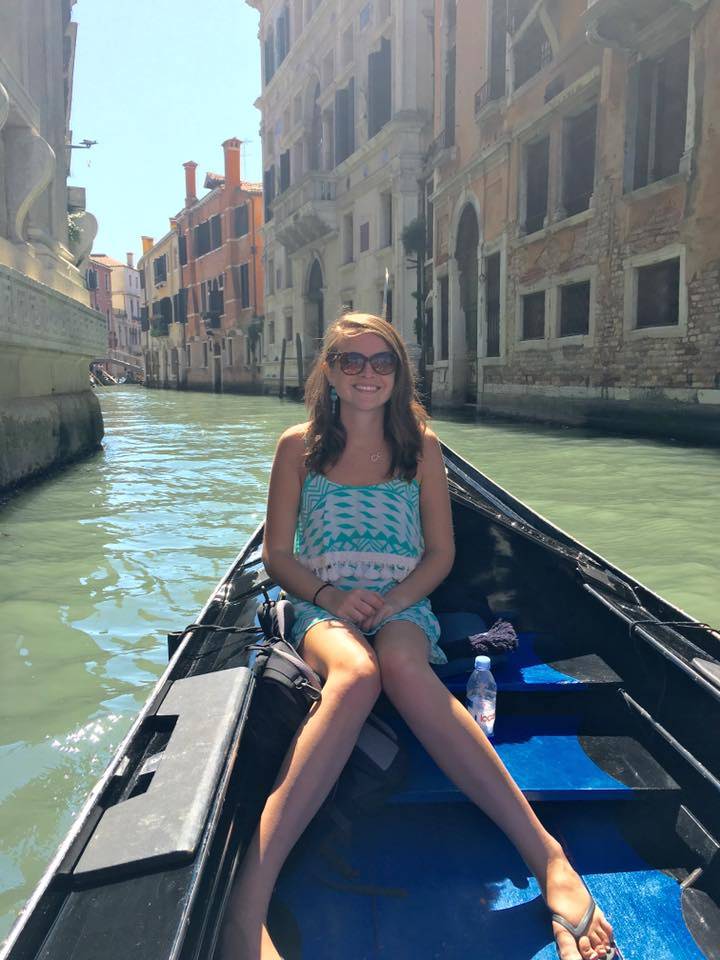 Although these joy rides are a bit pricey – and some travelers would argue not worth it – this is the time to splurge. The current rate is 80 euros per 40 minute trip. You can save money by bargaining with the gondoliers or by splitting the ride with others – up to 6 people! We all want the romantic sunset ride, but beware…fares hike up to €100 after 7:00pm.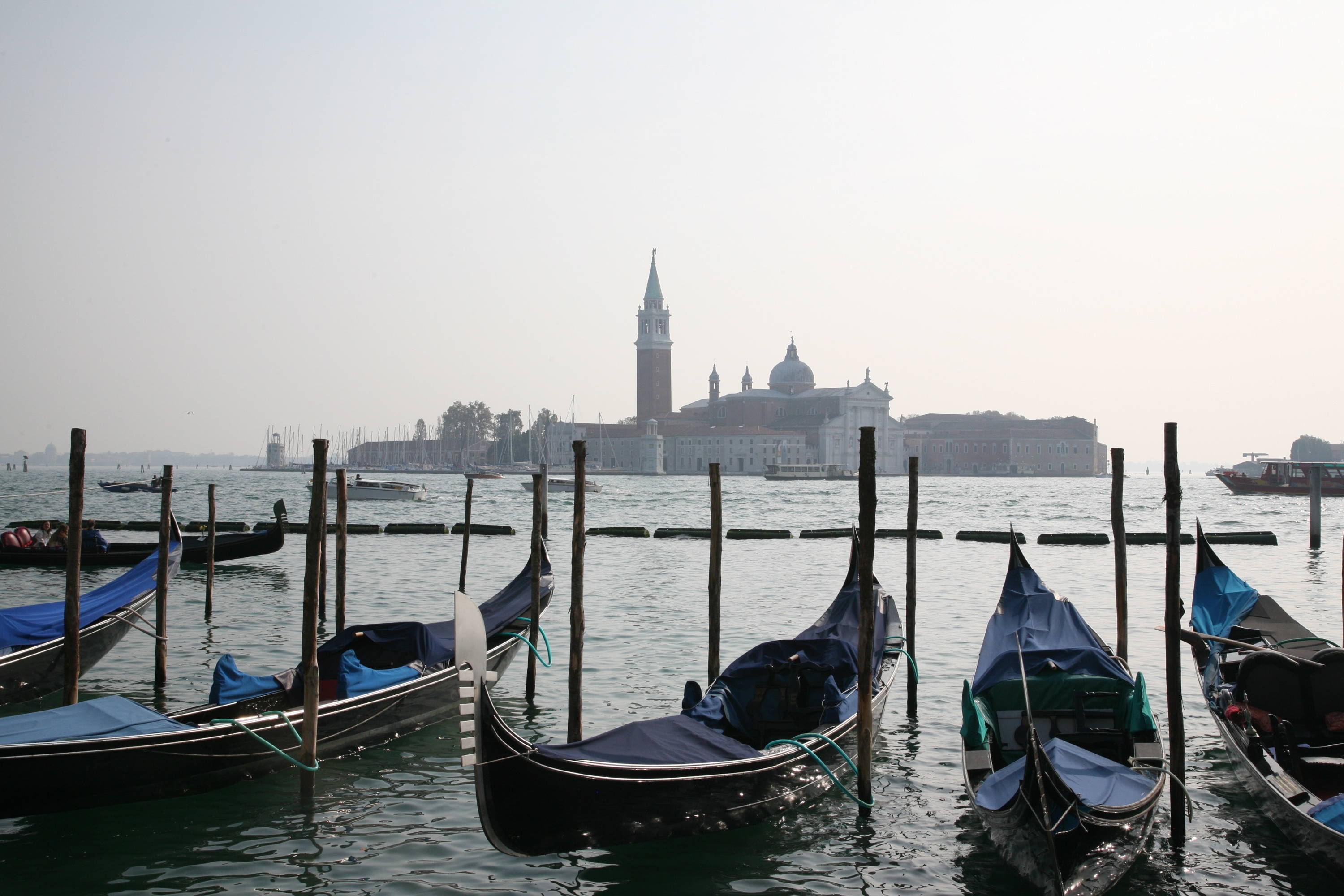 If you want the full Venetian experience, you can learn how to be a gondolier yourself!
All rides depart from Santa Maria del Giglio gondola station, a five minute walk from San Marco square. If you book your ride in in advance, you can make special arrangements to take alternative routes, get a romantic serenade, or plan a photo shoot – but at an added price! Worth it for a honeymoon or anniversary.
Stroll around St. Mark's Square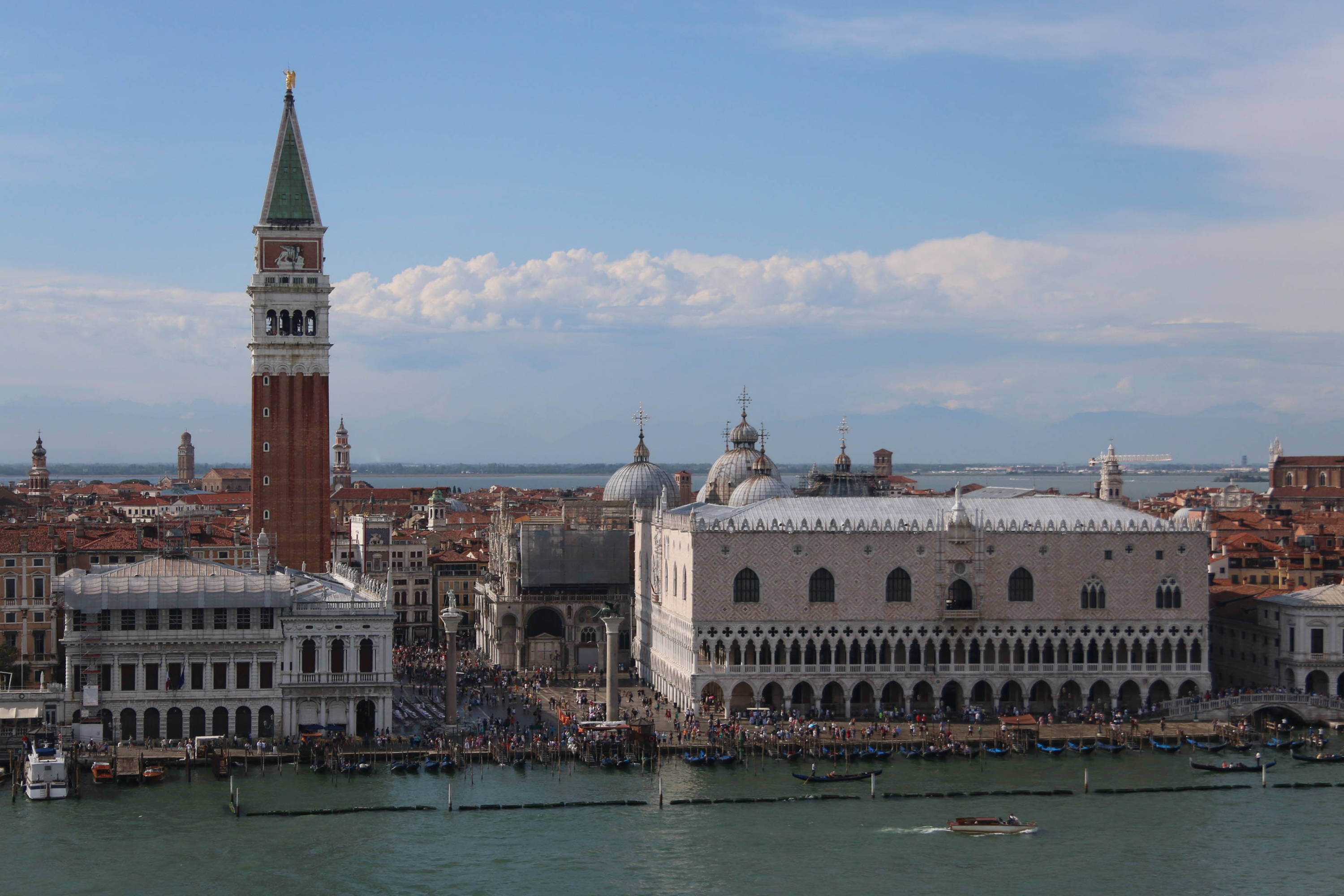 St Mark's Square or Piazzo de Marco is the epicenter of the city – a large town square set along the water's edge. St. Mark's Basilica is the highlight of the square and is surrounded by Doge's palace and several museums. This iconic area is worth an afternoon visit, but prepare to encounter hordes of tourists, pick-pocketers, overpriced food, and flocks of pesky pigeons.

With the purchase of a St. Mark's Museums pass (single tickets do not exist) you will be able to explore Doge's Palace, Museo Correr, Museo Archeologico Nazionale (Archaeology Museum) and Monumental Rooms of the Biblioteca Nazionale Marciana (National Library of St. Mark's). Price is 20€ for adults and 13€ for children and students.

Doge's Palace or Palazzo Ducale is a masterpiece of Gothic architecture with its patterned facade of white and pale pink marble. I did not tour inside but it is a highly recommended experience to learn more about the art, history and relics from ancient Venice.

The St. Mark's Museums ticket grants you access to several areas in Doge's Palace – the grand central courtyard, Museo dell'Opera (Opera Museum) and a walk through the state rooms, armory, and prison. For a more in depth look at Doge's Palace, the Secret Itineraries tour covers additional rooms and gives further insight into the history of the Venice Republic, including a glimpse at the prison cells which Casanova famously escaped from. Price is 20€ for adults and 14€ for children and students.

To this day, when heavy rain arrives in the colder months, the sea levels rise and often flood the square. Such a resilient place!
Behold St. Mark's Basilica! Standing proudly in St. Marks Square it represents the Roman Catholic Archdiocese of Venice. Formerly the Chapel of Doge, it was only made the cathedral of Venice in 1807. The ornate exterior of Italo-Byzantine style is a symbol of Venetian wealth and power, earning it the nickname Chiesa d'Oro or Church of Gold.
The original Basilica of the 9th century was built to keep sacred relics safe—including the body of St. Mark the Evangelist which was stolen in 828. You can see this scene depicted in the mosaic above the left door as you enter the basilica.
Venture inside to see over 85,000 square feet of gilded mosaics on the columns, domes and cupolas. The art is a mix of Byzantine, Gothic and Romanesque styles. Depending on the time of day, the murals will shine through in different hues from the light peeking in. The interior is illuminated from 11:30 a.m. to 12:45 p.m. on weekdays and during public worship celebrations on Sundays and holidays.
The visit inside the Basilica lasts about 10 minutes. Admission is free, but it costs €5 to visit the upstairs museum and high altar and €2 to the treasury. To avoid waiting for up to five hours for entry, reserve your spot in line ahead of time by purchasing tickets online for €3. These reservations are only available during peak season from April to October and can be made up to 10 minutes before entry.
Be sure to dress respectfully of a place of worship with no shorts or bare shoulders. Note that you are not allowed to carry large bags inside and photography is prohibited. The Basilica welcomes both worshippers and visitors, but check the suspension of visitors timetable to see when special religious services prohibit entrance.
Climb Campanile di San Marco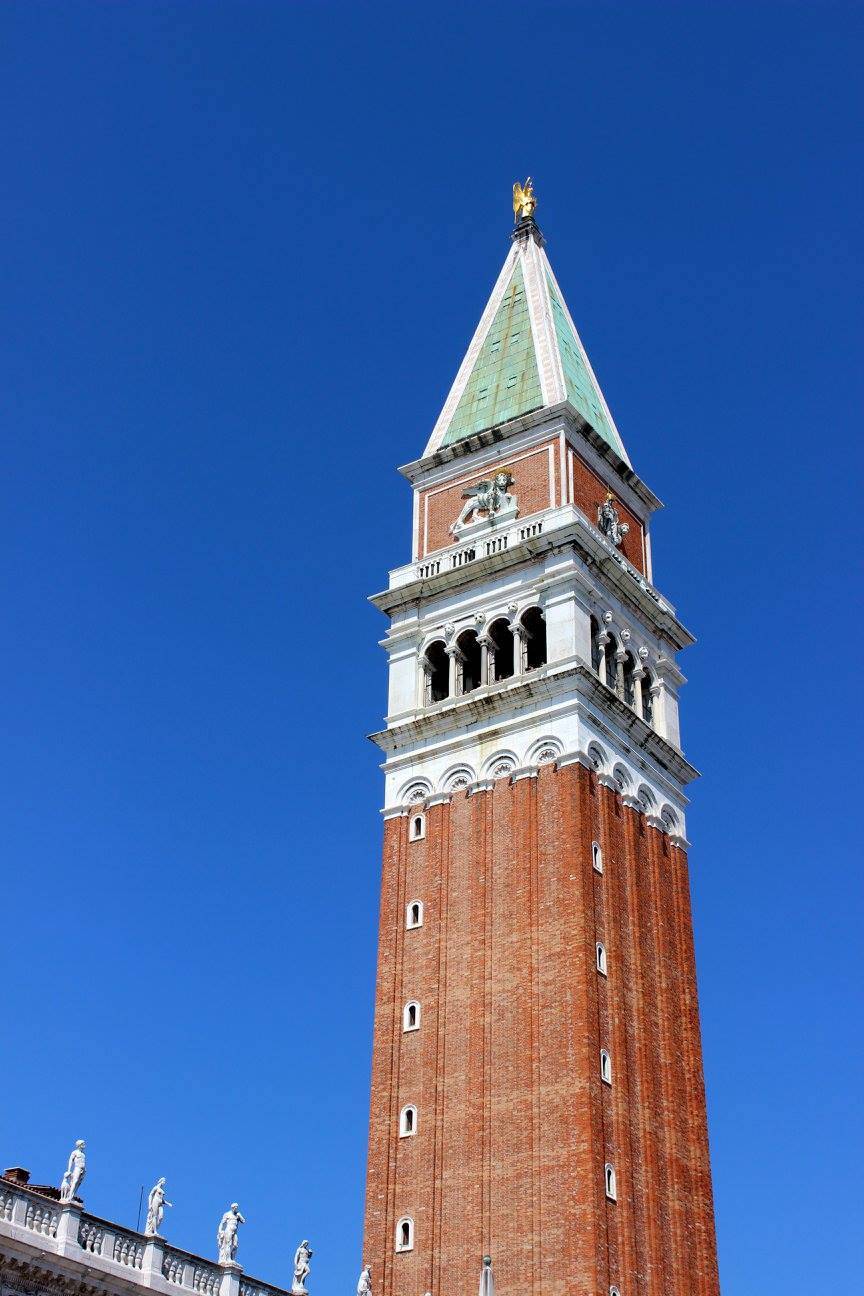 Campanile di San Marco is the bell tower of St. Mark's Basilica and the tallest structure in Venice at 323 feet. Climb to the top of the tower for breathtaking views over Venice, including the Venetian Lagoon, St. Mark's Basilica, Santa María della Salute, and San Giorgio. Originally a lighthouse for sailors, St. Mark's tower has been restored many times since 1515. In 1902 the tower collapsed, killing locals. Ten years later it was rebuilt exactly as it stands today. It's a wonder they didn't give up on it!

At the top of the tower stands a golden statue of the archangel Gabriel. The belfry houses five bells, each for a specific purpose during the Republic of Venice. The Marangona is the largest and rang at the beginning and end of the work day. The Malefico is the smallest bell and announced executions. The Nona sounded at midday. The Trottiera called council meetings and the Mezza Terz proclaimed a Senate session.

Standard tickets are 8€. Purchase tickets in advance online for 13€ to skip the line. Check the Basilica San Marco website for the most up to date times and prices.

Hop on a vaparetto to San Giorgio Maggiore
The island of San Giorgio Maggiore boasts a beautiful church and monastery of its own along the Riva degli Schiavoni waterfront. The 16th century Benedictine basilica is made of white marble in the classical renaissance style. Climb to the top of the bell tower for a 360° view of Palazzo Ducale, the San Marco Basilica and Punta della Dogana. Somewhat of a hidden gem, lines will be much shorter than at St. Mark's Bell Tower, for equally exquisite views.
For a cheaper vaporetto, ask for a 'traghetto ordinario' ticket from San Marco to San Giorgio – 5 € one way instead of 7.5 €.
Window shop for Venetian masks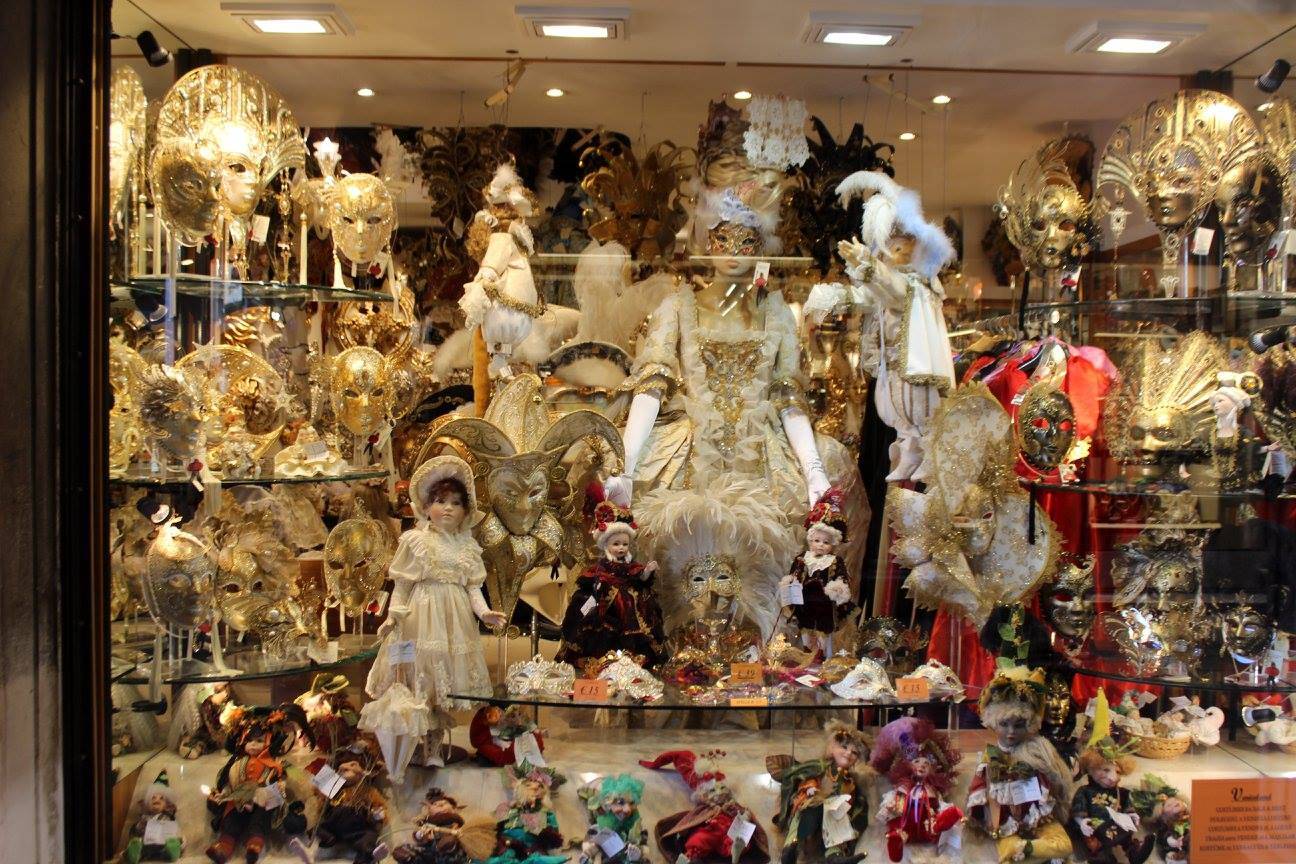 Venetian masks are a long standing tradition of the Carnevale of Venice, an annual festival that takes place in the weeks leading up to the Catholic holiday of Lent. These masks were also used to hide a person's identity and social status, so they could interact with people outside of their class level at masquerade balls.

You can find Venetian masks in dimly lit shop windows or lining street stalls around the city. They are made of leather, porcelain or using the original glass technique. The first masks were simple in design but now are more elaborate with gold leaf details, feathers and gem decorations. If you want the real deal, avoid cheap, imported masks by shopping authentically at Benor Maschere Venezia, Ca' Macana or La Pietra Filosofale.

Take in the vivid architecture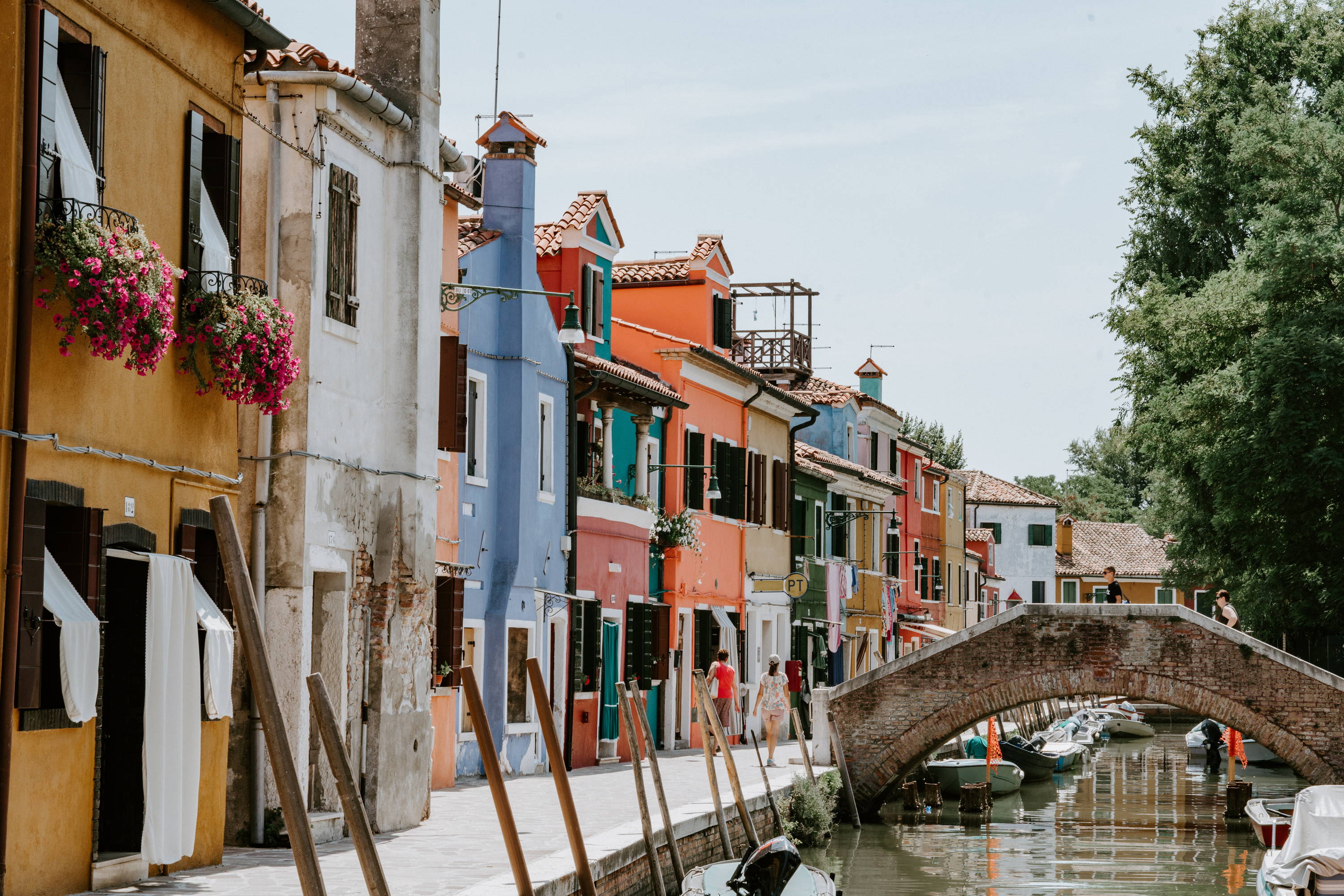 I've never been much of an indoor museum type, so I fall for the cities with extraordinary architecture – and Venice offers just that.

Venice is a compact and walkable city (surprise: no cars!) The Rialtine islands in the central area of Venice are small enough to walk from one end to the other in about an hour. Throw out the map and let yourself get lost! Sit and relax in the small squares, hop from cafe to cafe for coffee and sweet treats, and take in the views. Unless you are pressed for time, throw on comfortable shoes, take off by foot and let yourself get lost in the maze of alleys that is Venice.
Despite being a small city, it is easy to lose your bearings with its medieval streets built with little rhyme or reason. Check out lesser known neighborhoods such as Cannaregio, Santa Croce, and Dorsoduro where you are bound to stumble across hidden gems.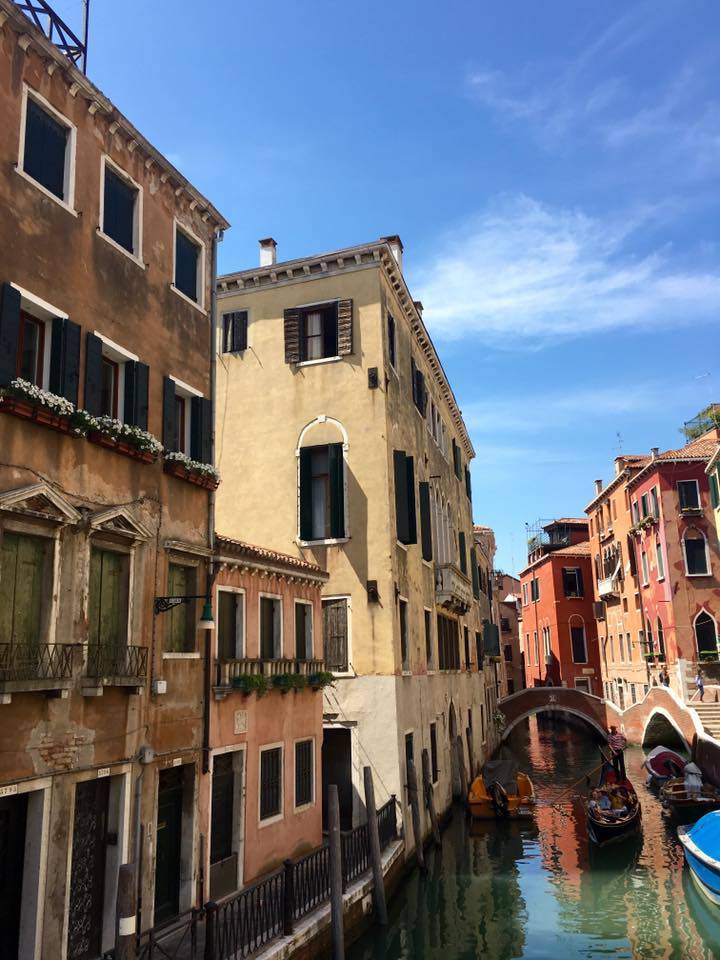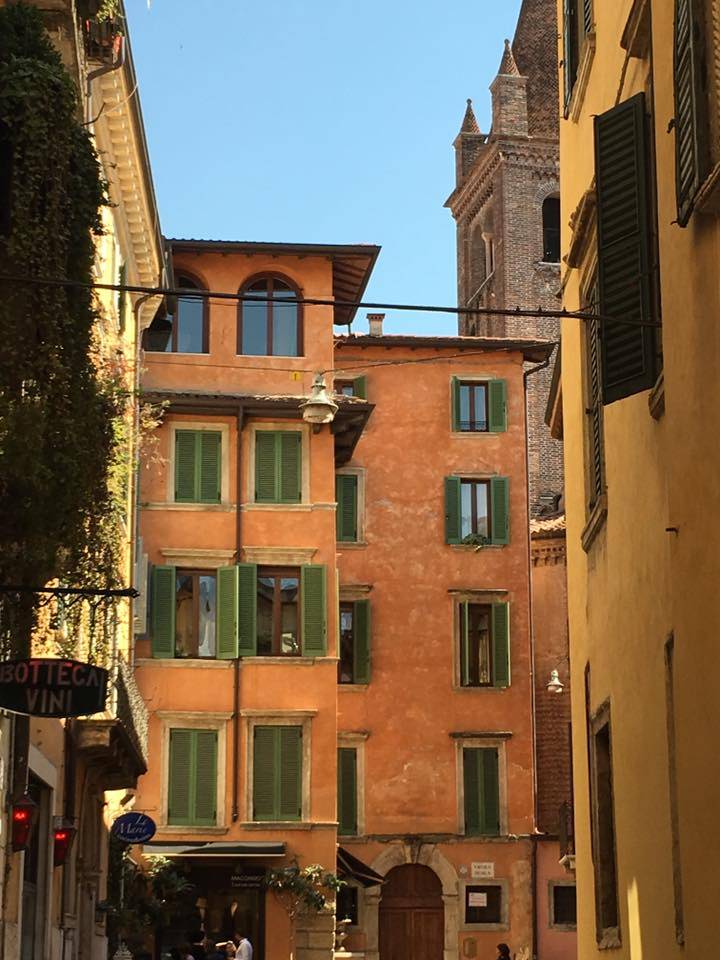 Currency: Euros € Before leaving for your trip, order cash from your bank to avoid poor conversion rates and fees at the airport or once abroad. Whenever possible, I used my Chase Sapphire Preferred credit card with no foreign transaction fees and 2x points on travel and dining – that's free money towards future travels! Also, be sure to inform your bank you will be out of the country to avoid a freeze on your account.
When to visit: The ideal time to visit Venice is from March to May or September to November in "shoulder season" There will be far less tourists, lower prices and typically mild weather. Note that there will be shorter lines to get into tourist attractions, but a lot of places will have shorter hours. Peak season is June to August when you will deal with the summer heat, large crowds and inflated prices. December through February is low season since the temperatures drop to freezing. If you want to attend the famous Carnevale celebration in February, expect lots of people but with loads of excitement.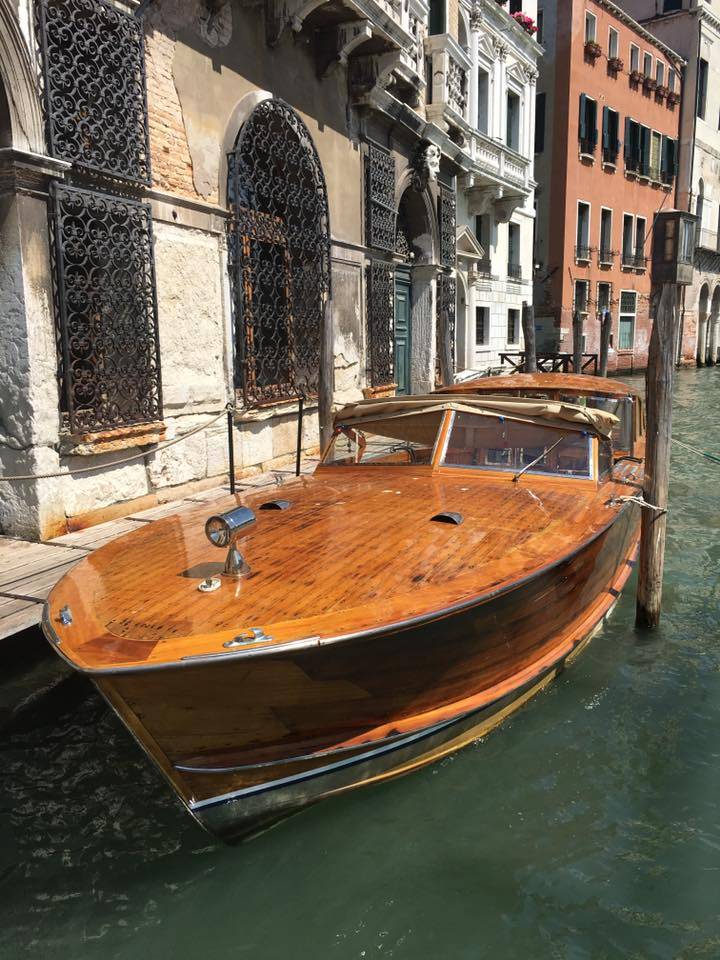 Getting around: Venice is one of few pedestrian-only cities in the world. That means not only no cars, but no bikes either! The traghetto is the cheapest way to cross the Grand Canal. These are shared passenger gondolas which only cost 2€ per person, rather than 80€ for a private one. You must pay in cash (preferably coins) and will be standing. The traghetto stops at seven points between the railroad station and St. Mark's Basin and you can find these stops by following the yellow signs down to the canal.
The vaporetti are the best mode of transport for longer trips. They conveniently leave the Piazzale Roma every 10 minutes during the day, or every 20 minutes after 9:40 p.m. A single ticket is good for 75 minutes in one direction, for as many transfers as you need. (Travel time from Piazzale Roma to the Piazza San Marco is about 40 minutes) You can save money with the Vaporetti Travel Card: Single Ride, one way – 7,50 €, 24-hour – 20 €, 48-hour – 30 €, 72-hour – 40 €, 7 days – 60 €. You must validate your ticket with the ticket reader before boarding to avoid heavy fines.
Water taxis are the most flexible yet most expensive option. They operate 24/7 and will get you closest to your destination. But there is a 15€ flat rate and a 2€ fee per minute of the trip to your destination. They typically don't have meters, so ask the driver to be specific about the price before getting on board.
Nowadays, private gondolas are mostly used for scenic purposes instead of a practical transport option. Prices start at 80€ for 40 minutes for up to 6 people. Your best bet of all? Enjoy the city on your own two feet!
Souvenirs: Glassware, olive oil, pasta, masks, Venetian lace, Tuscan wine.
Day trips: If you have a few extra days in Venice, the surrounding islands of Murano, Burano, Giudecca and Torcella are worth a visit, each with a unique charm of their own.
The Italian way of eating is about the enjoyment of both the quality of the food and the company at your table. It is also about eating and drinking in a progression that will aid in proper digestion. Take time to slow down, savor your food, and enjoy the experience.
Unlike most Italian cities, Venice is renowned for its seafood rather than the traditional pizza and pasta. Local favorites to indulge in are Vermicelli al nero di sepia (pasta with black squid ink), scampi alla veneziana (boiled shrimp with olive oil and lemon juice), Caparossoi a scota deo (Clams with lemon and pepper), or Bacalà mantecato (salted cream cod). A few of the top seafood restaurants in Venice are Vecia Cavana, Osteria Trefanti Venezia or Al Covo.
To get the full Venetian experience, prior to dinner, seek out cicchetti bars. These small plates which are similar to Spain's tapa are enjoyed over a glass of wine among friends in the late afternoon or early evening. Served at bàcari, small, local bars hidden all over Venice, the plates are affordable, ranging from about 1€ to 3€. You are able to try a variety of fried offerings or fresh fish, meats, cheeses and can even make a whole meal out of it by ordering several plates. Find these bars scattered around the city, including the favorites of Cà D'Oro alla Vedova, La Cantina, All'Arco, Cantina Do Mori, Cantine del Vino già Schiavi.
Of course Italy is known for its espresso and wine, but the most famous cocktail? The Spritz. It is a combination of Prosecco or a sparkling white wine and either Aperol for a sweeter taste or Campari for a bitter taste. The Spritz is s classified as an aperitif or apertivo, a light alcoholic beverage enjoyed before lunch or dinner to get the digestive system flowing. Head to a café bar from 4-7pm for the Italian happy hour called aperitivi, often with complimentary small bites to go along with your drink.
Gelato – it's everywhere, and oh so delectable! Some of the best shops include Gelataria Alaska, Green Apple, and Gelataria Grom. You will want to try a scoop of each flavor.

Drink tap water: The water in Italy is generally safe to drink (I have a horror story from Rome, but my immune system was very weak at the time – normal people are fine). Ask for tap water at restaurants and bring a reusable water bottle to fill up at the fountains around the town squares.
Pack a picnic: Head to the Rialto market for fresh veggies, fruit, and cheese to enjoy a cheaper meal with an amazing view. You can get a quality bottle of wine to pair it with for just 4€.
Take free walking tour: See Venice through the eyes of a passionate local guide and how it went from being a group of muddy islands on the lagoon to the most important trading city in Europe. The tours last 2.5-3 hours and you must secure a FREE ticket online in advance.
Couchsurf: Accommodation is very expensive in Venice. Try Couchsurfing to stay with locals for free and hopefully get tips on the hot spots in the city. Your next best bet? AirBnb!
Stand, don't sit: Since tipping isn't common for servers in Italy, you may be charged a il coperto or cover charge of a euro or two when you sit for food or drink.
Check the menu: Avoid restaurants with menus translated in many languages and pictures of the food. These are to attract tourists and will be overpriced for low quality food.
Buy the Venezia Unica City Pass: If you plan to hit all the top sights, this city pass will give you discounts to museums, churches and, tours and the ability to skip lines. There are a variety of options available depending on what you wish to see.
And there you have it - a quick 24 hour itinerary to Venice! If you found this guide useful, sign up for our newsletter to get updated weekly on new posts!
---