Packing sucks. We get it. There's a lot to consider when determining what to bring: the type and length of your trip, your itinerary, the weather, and more. It's easy to overpack or underpack, especially if you've waited until the last minute.
Today we are sharing tried and true tips and tricks to travel light, organize, save space, and arrive at your destination stress-free.

1. Pick your perfect travel bag
Shopping for luggage can be overwhelming! There are so many options available to fit a variety of travel styles. The key is finding a versatile bag that is sturdy, lightweight and large enough to hold all of your essentials. And of course at an affordable price point!
Choose a size
Travelers tend to overpack when their suitcase is too large. A smaller bag is going to be easier and more lightweight to transport.
Consider the typical duration of your trips. Do you tend to take shorter trips, such as day trips or weekend getaways? A smaller bag is all you need. Or week or longer trips? You may need to upgrade to a larger bag.
Check with your airline first, but most allow a carry-on that is 45 linear (total) inches. A common sized bag for carry-on luggage is 22"x 14"x 9". The most common checked bag limit is 62 linear (total) inches or 27" x 21" x 14" and a weight limit of 50 pounds. Make sure your suitcase can hold everything you need safely and securely and under the size and weight limit for your favorite airline.
Choose hard or soft
If you want your fragile items to be better protected, a hard case suitcase is the way to go. They are also typically waterproof to avoid damage from the rain.
If you want flexibility, softside luggage is your best option. A soft bag is easier to squeeze into the trunk of your car and tight overhead compartments on planes. They are lighter weight and often expandable to fit more when packing - or if you like to go shopping on your trips! ;)
Choose the best color
Choose a color or print that's easily recognizable on the luggage belt and not mistaken for someone else's bag. Avoid the color black which everyone has or white which will get dirty quick. If you have a black suitcase that you love, tie a brightly colored ribbon or ID card to the handle so you can easily pick it out of the line up.
Choose two or four wheel
A roller or two wheel suitcase is easier for getting around town as it's better at clearing curbs and rolling on uneven surfaces. But the downside is that they only roll forward and backward.
Four wheel suitcases or spinners are more ergonomic and don't put as much stress on your shoulders or back They effortlessly glide by your side and are easier to maneuver around tight spaces such as down aisles of planes and in elevators. But keep in mind that the wheels are externally mounted so it's possible they could snap off if you're not careful.
Challenge yourself to pack only a carry-on
When you forgo checking a bag, you can avoid extra fees, lost luggage and time waiting at baggage claim. Plus, you never run the risk of the airline losing your luggage. So if possible, limit yourself to just a carry on.
Warning: Pay attention to your airline's size restrictions in the fine print of your confirmation ticket. You don't want to hold up boarding trying to fit your bag in the overhead bin or be charged extra if it's over the limit.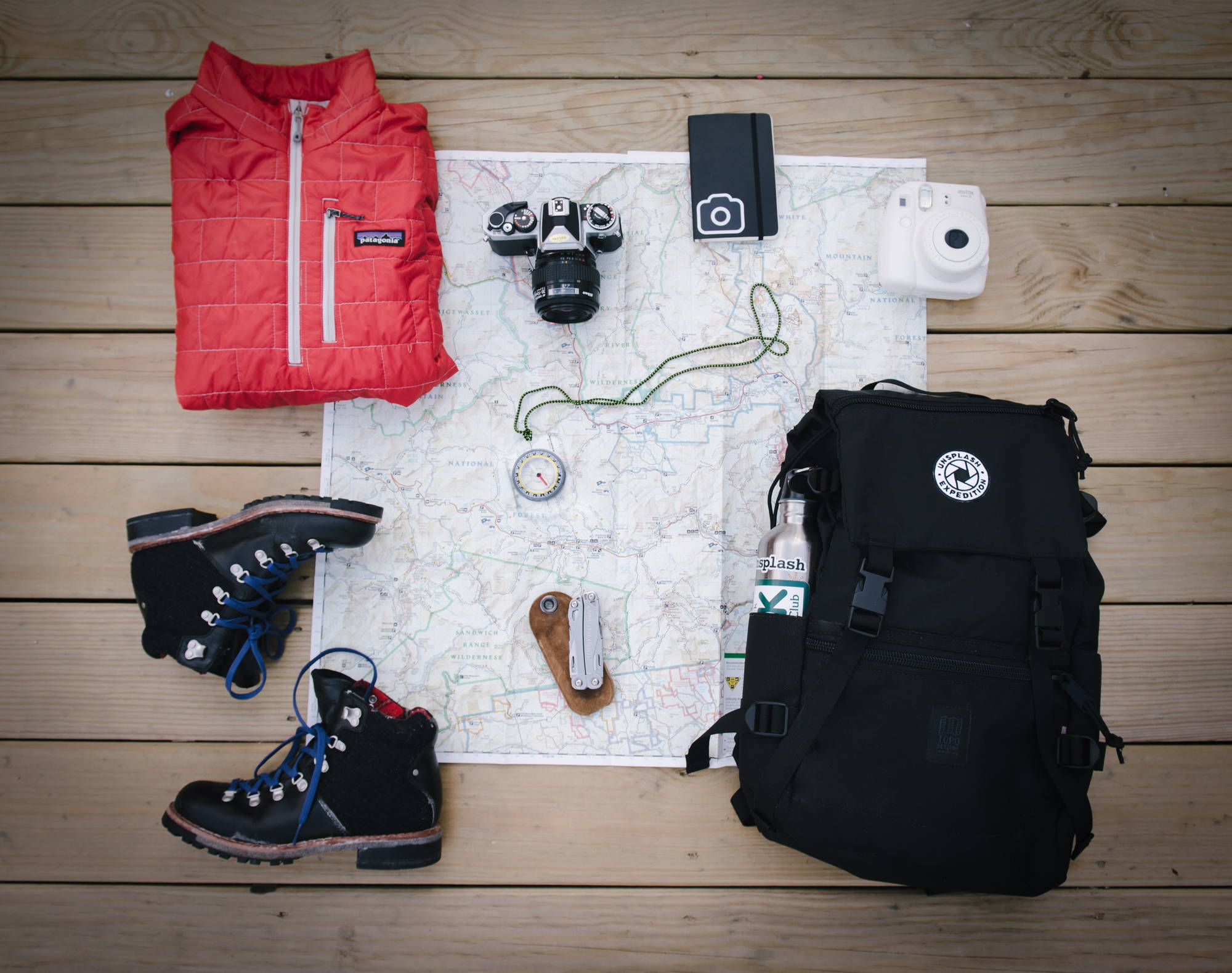 2. Start with a packing list

We all have been guilty of procrastinating on packing. By doing this, you risk packing unnecessary items and worse, forgetting the essentials. Make a list of necessities for your trip and pack a few days in advance to alleviate this issue.
As you are packing, make sure you only check items off the list as you are ready to put it in your bag. Don't check off your charger if you're still using it that night or you'll end up forgetting it
Think about the specifics of your trip. Not to the point of stressing yourself out, but to arrive to your destination as prepared as possible. Is it a flight, a road trip, a cruise? Are you traveling for business or leisure? Are there any special activities or events you will be doing. ie. Don't forget that suit for a wedding or bathing suit if you will be swimming. How many days and nights will you be traveling? Check the weather in your destination. Don't forget your jacket or umbrella or shorts or sandals!
4. Pick a travel day outfit

Choose a relaxed outfit for your in-flight attire. No shame in rocking leggings and a comfy sweatshirt. The plane can get chilly so bring a light scarf and cardigan to wrap up in. Slip-on flats or tennis shoes are practical options over sandals or heels. If you need to bring something bulky, wear it on the plane instead of packing it to save space in your suitcase!
5. Pack the essentials first

Think about what is necessary to travel. Your passport, ID/driver's license, boarding passes, credit cards, cell phone and chargers.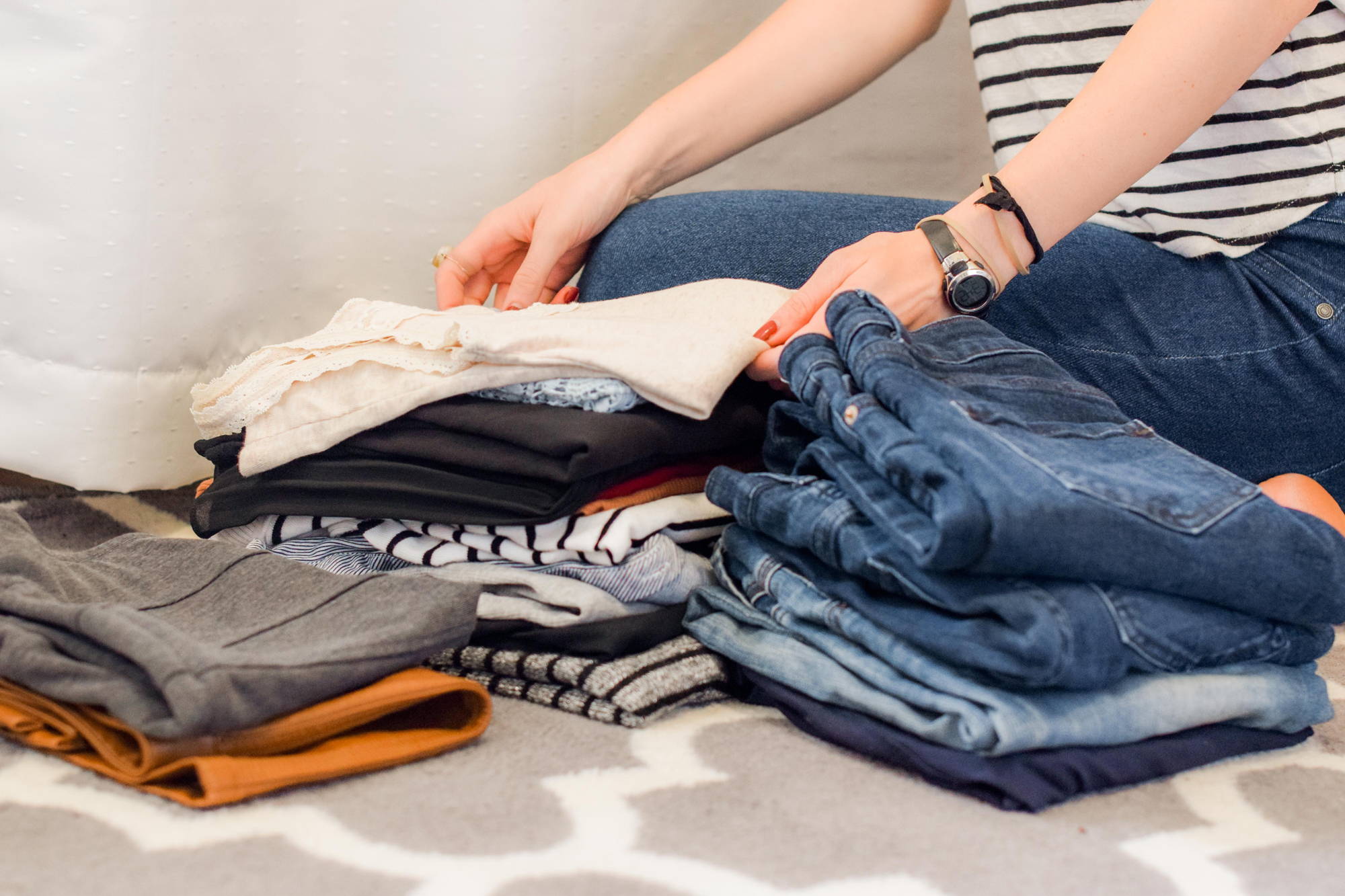 6. Create a capsule wardrobe

What is a capsule wardrobe you ask? A minimalist wardrobe made up of versatile pieces that you can mix, match and layer. This way, you can create different looks instead of packing completely separate outfits. Less is really more here.
When putting together your outfits, think neutrals and solid colors over bold prints. You should be able to match three tops for every pair of bottoms. Add accessories such as necklaces and light scarves to enhance the basics. As far as shoes go, one pair of sturdy walking shoes and one more formal pair should do the trick for many destinations.
2 bottoms, 6 tops and 2 outer layers can make 24 different outfits!
A good rule of thumb when packing is to lay out everything you think you need for your trip. Then remove half of it. You probably need less than you think!
Once you've laid out all your items, really consider the number of days you'll be on your trip. Pack "must haves," not "just in case" items
Take items you can grab at your destination off the list. Will your hotel provide shampoo, conditioner, and body wash? Do you really need that 10-step skincare routine? Pack travel sized toiletries rather than full size bottles.
Rolling your clothes can help minimize wrinkles and maximize space in your bag. Roll lighter knits and t-shirts and fold more structured items like blazers and jeans. To roll, fold each clothing item in half, then roll it as tightly as possible. Rubber bands can also help keep them in place.
9. Arrange contents strategically

Utilize shoe space when you can. Rolled up socks, belts, gloves, stocking caps, and other small items can easily fit into shoes. This also helps the shoe hold its shape throughout your travels. Rolled up belts can also be used to keep a shirt collar stiff if needed. Heavier items such as shoes and jeans should be placed near the wheels. Then layer in the order of rolled garments, folded clothes, and then bulky items. Maximize every nook by stuffing shoes with socks and cups of bras with underwear.
Packing cubes are also great space savers! Separating items makes it easy to pack, unpack and repack quickly and efficiently. Plus, you can very easily move your into the drawers of your hotel dresser and instantly be done unpacking and ready to go. Just remember that packing cubes save space, but still add to the bag's weight.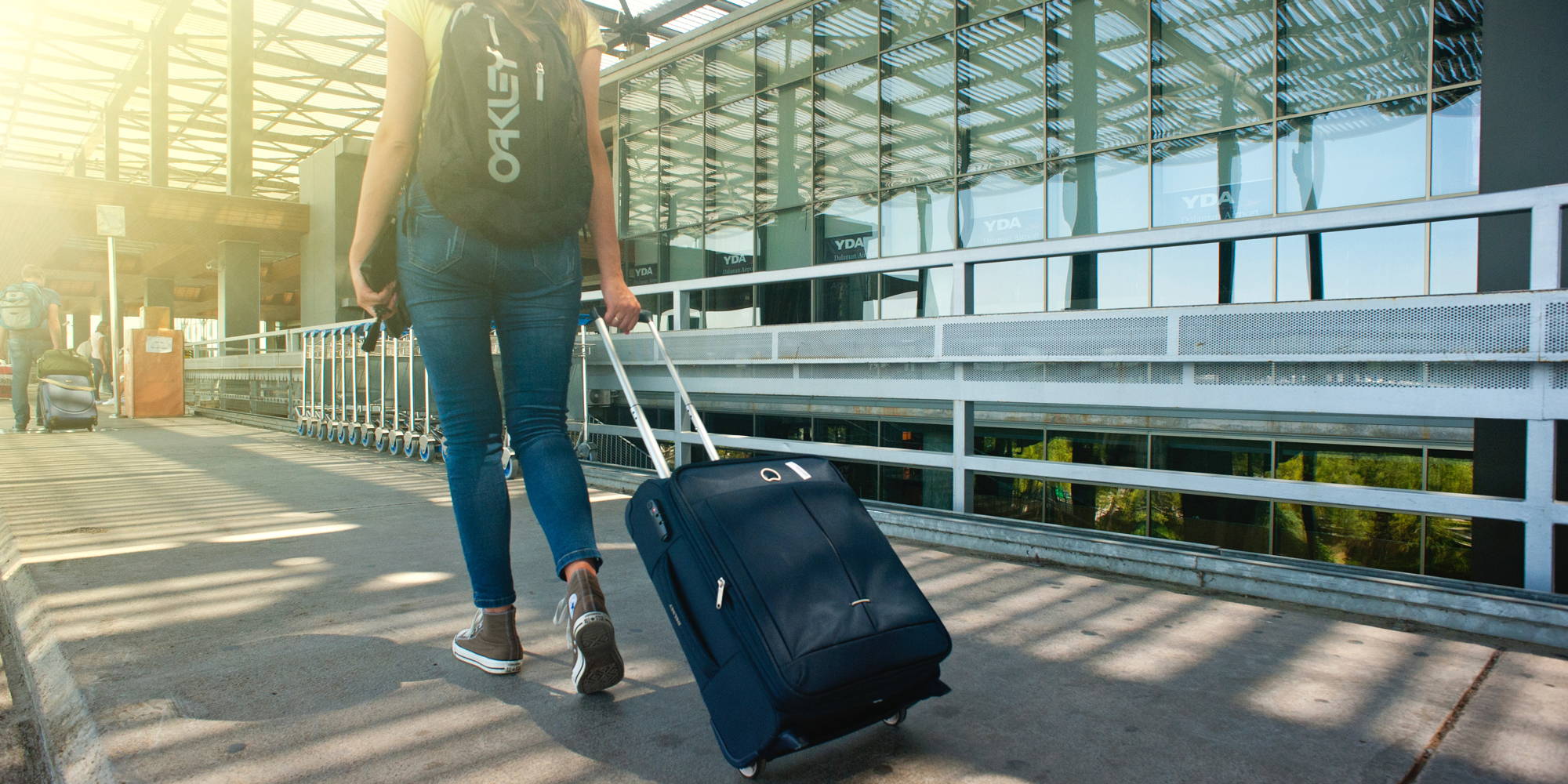 If you are taking both a checked bag and a carry on, here is what we would suggest packing to have with you on the plane:
Kindle: Preloaded with a library of books before takeoff.

Sleep mask: To block the bright cabin lights and catch some Z's.
Noise cancelling headphones: To drown out your talkative neighbor.
Portable battery charger: To keep your electronic devices juiced up.
Reusable water bottle: To stay happy and hydrated.
Protein dense snacks: To keep yourself satisfied in between meals.
Inflatable neck pillow: To save your sanity if you wind up in the uncomfortable middle seat.
Mini disposable toothbrush:To keep breath fresh in between coffees.
Lightweight blanket: To keep you warm and help you sleep.
Chewing gum: To prevent ear popping during takeoff and landing.
Hand sanitizer: To remove germs after flipping through the in-flight magazine.
A change of clothes: So you're covered for at least a day if your baggage gets delayed or lost.
Follow the TSA 3-1-1 rule for liquids in carry-ons. You may carry liquids, aerosols, gels, creams, and pastes in containers of 3.4oz (100ml) or smaller. These items must fit into 1 clear plastic quart-sized bag. Only 1 bag per passenger is allowed. Pack liquids in ziploc bags so they don't leak over everything.
We hope you found this guide useful and will refer to it when you are ready for your next getaway!