I get it. Not everybody is equipped to haul off into the woods for several days to hike to the base of a mountain that is going to take you three weeks to climb. (Watch the doc Meru if you want to know what I am talking about.) Not all of us are okay with waiting around Talkeetna Alaska for weeks in case the weather breaks and a bush plane can get you dropped off on a glacier to scale Denali. (Two lads were doing just this the last time I was in the town.) And not all of us are cool with throwing down $100k and putting Sherpas into precarious positions due to our lack of mountaineering skills. (This is what climbing Mt Everest for the non true expert is becoming more and more each year.)
Some of us are just yearning and wanting to wake up in a bed, eat breakfast, and spend all day hauling up and down a mountain. Then being able to celebrate with a cold one or a cooked from scratch meal at the end of the day back where we woke up. This is what thousands of day hiker's crave every single day. True hardcore day hikers are looking for ways to sleep in a bed yet have one of the greatest adventures all day that might not totally put their lives on hold or lives at risk.
Those that want more than a day hike...get it multi-day mountain climbing boys and gals...should go for it. However, for those looking to scale some epic mountains in the United States and be home for dinner, I offer you some of my favorites. Here's to your happy and safe adventures no matter what size mountain you are planning to put a Conquest Pin in to!

Flat Top Mountain & Hallet Peak: Rocky Mountain National Park, Colorado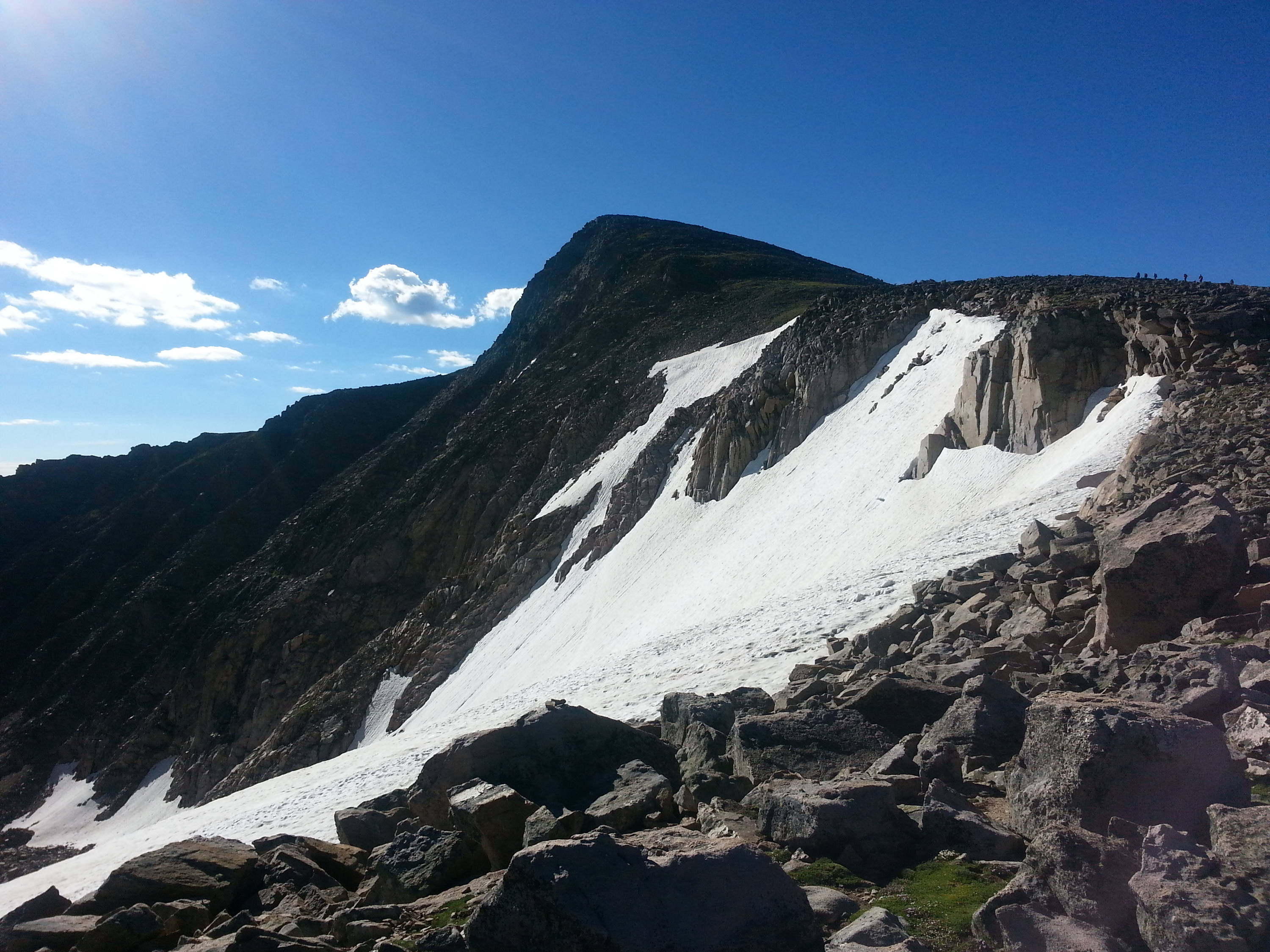 My brother and I had to back by mid afternoon for my grandparents 60th wedding anniversary celebration. We started at dawn, reached the summit of both mountain tops, and were showered and at our table to bid cheers to our grandparents by the time the dinner bell was ringing.
That doesn't mean work wasn't done in between breakfast and dinner. Starting from the Bear Lake Trailhead in RMNP you will take the basically straight uphill hike all the way above treeline to the top of Flat Top. Reaching the summit of the first mountain you are literally above glaciers and on the Continental Divide. If that's not enough for you the add on the additional mile, rock bouldering, and several hundred feet of elevation up to Hallet Peak.
You will be at 12,713 feet and feel as though you are on top of the world. An early start will also have you home for dinner.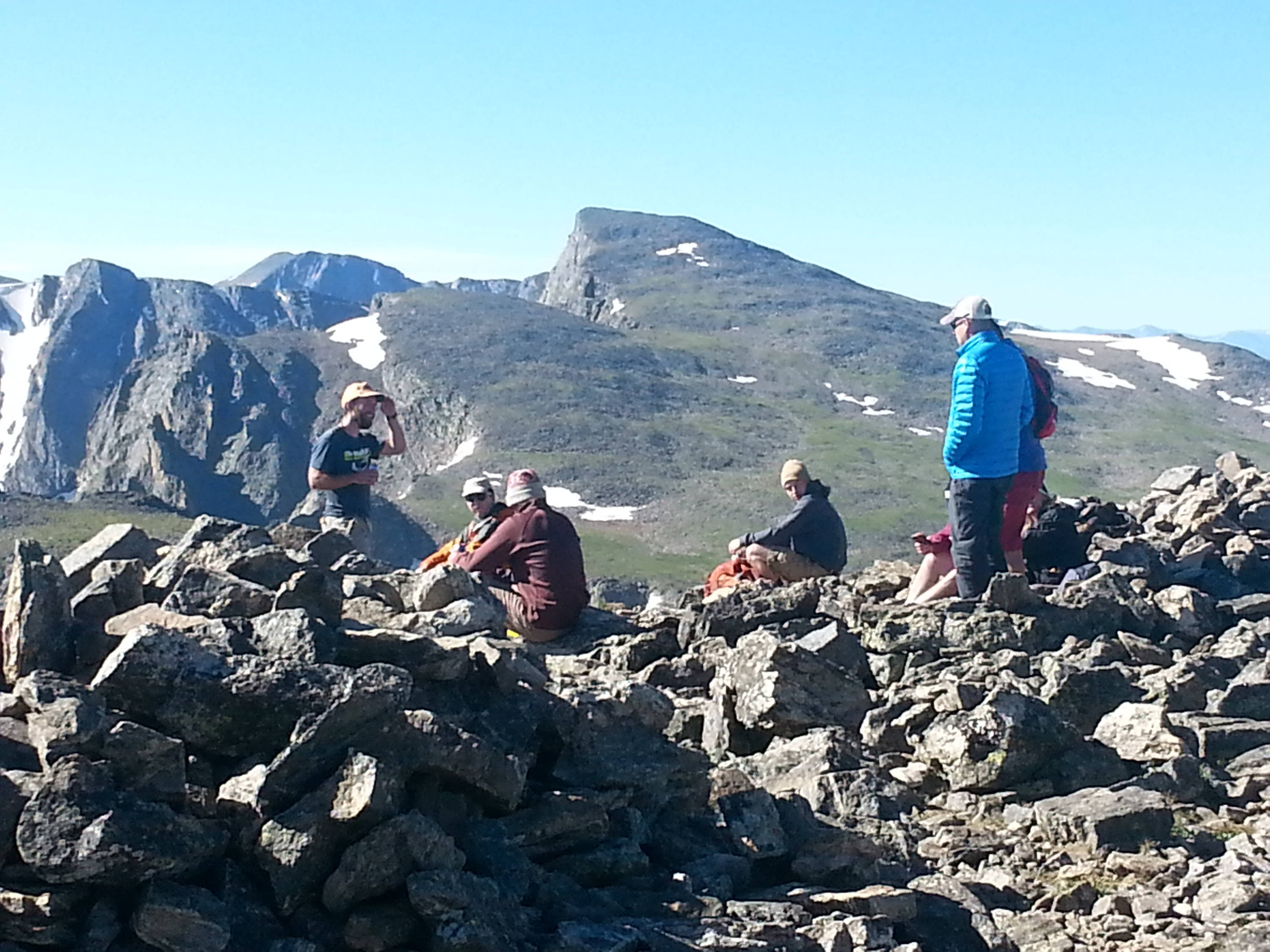 Guadalupe Peak: Guadalupe Mountains National Park, Texas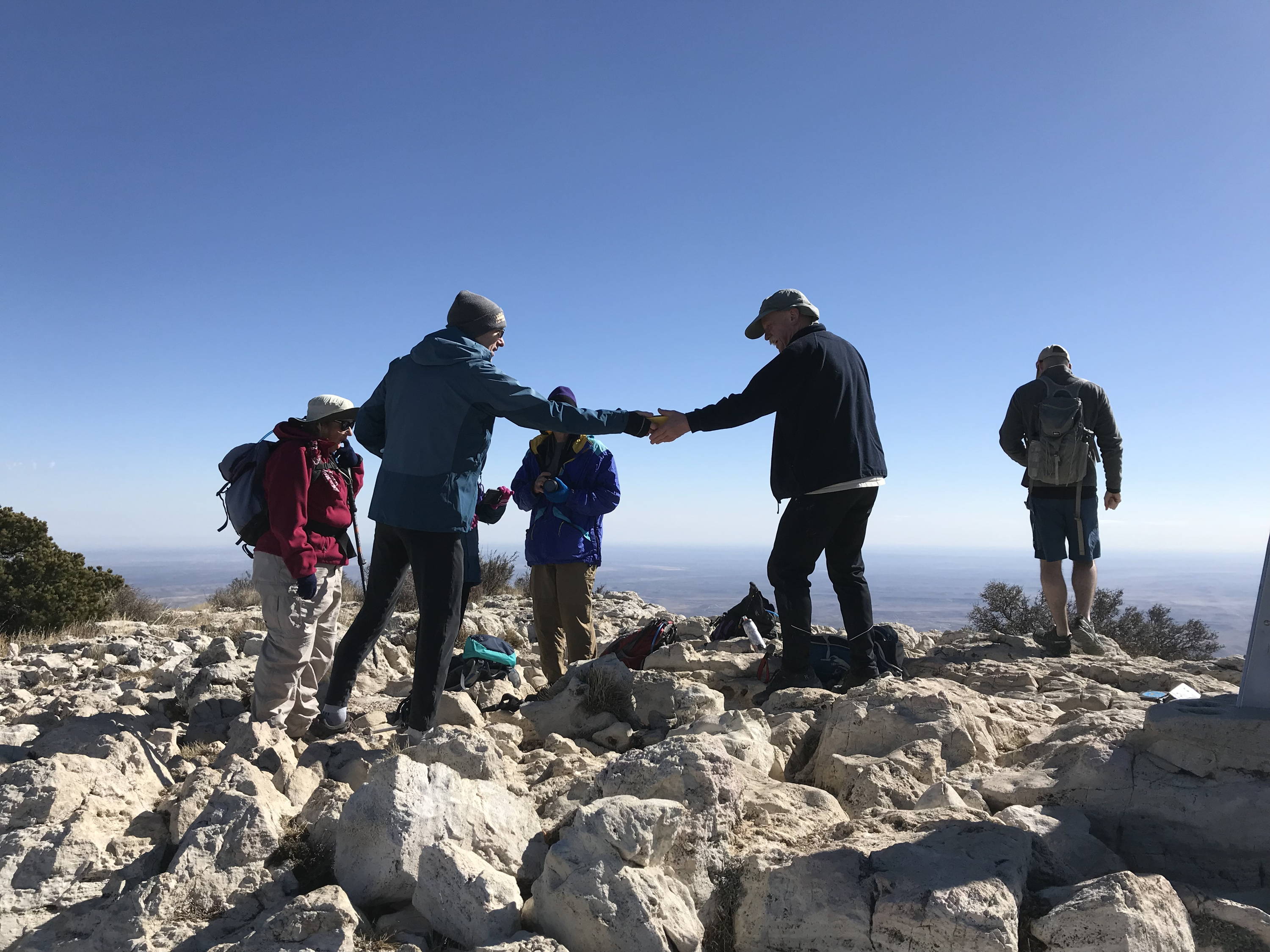 Texas has more than oil, seven man football, and BBQ. It's home to some epic National Parks, the wonderfully hipster city of Austin, and the greatest basketball coach of all-time not named Phil or Red. (They call him "Pop" for short in the city of San Antonio.)
Just two hours from El Paso are the Guadalupe Mountains and the queen bee of this beautiful park is Guadalupe Peak. Take the well maintained trail to the top of this peak nearby the visitors center and you won't just get a workout. Once atop the summit you will also get to say you have been to the "Top of Texas." That's right after scaling up almost 3,000 feet and ten miles round trip you will be at the highest point of Texas. The trail is beautiful, hard, and there's just something about telling people you have been to the top of Texas that has a nice ring to it. Camp under the stars in the park, head back to El Paso, or grab a motel in Carlsbad to celebrate your summit.
Wheeler Peak: Great Basin National Park, Nevada.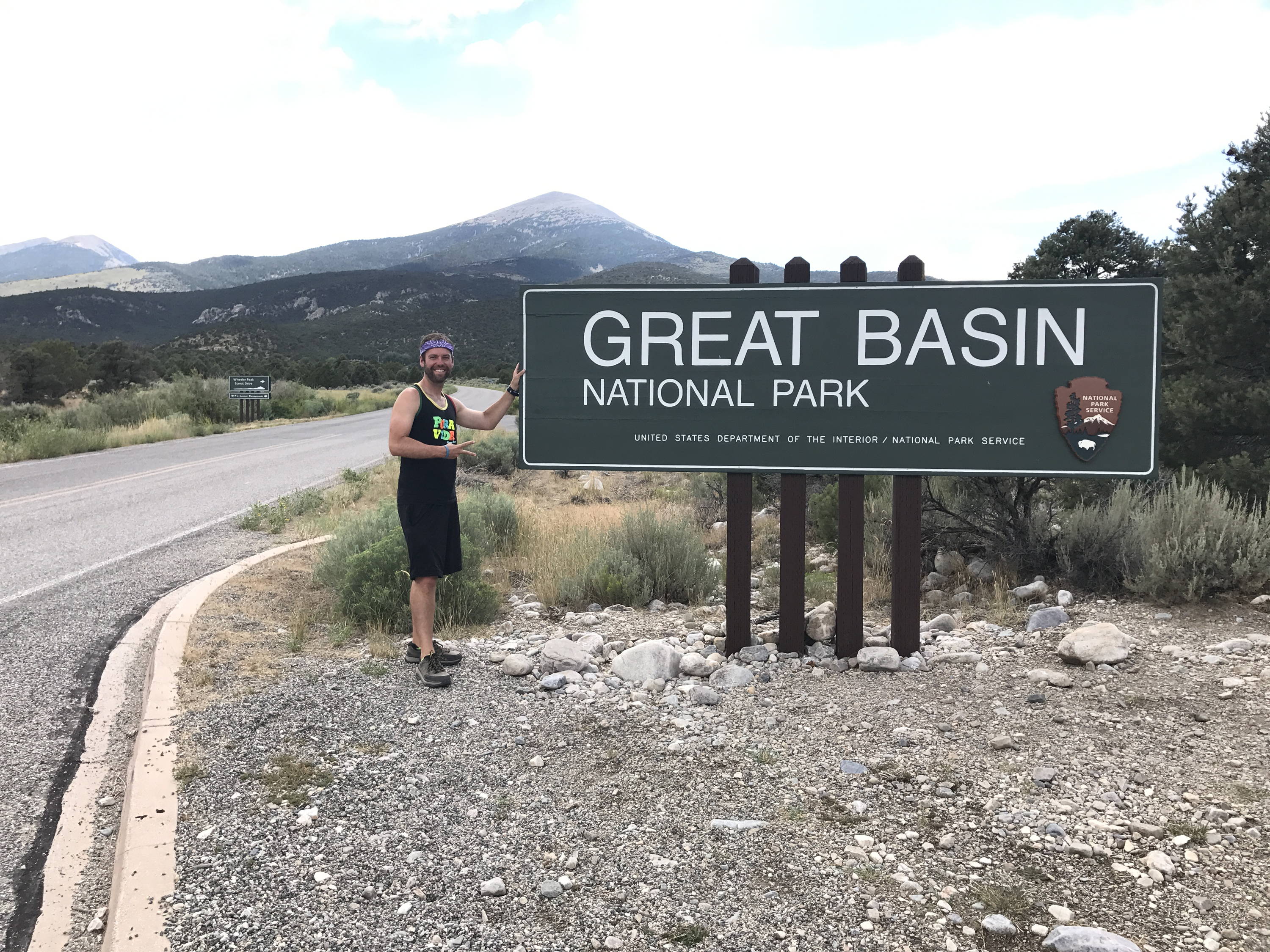 The adventure begins when you get to drive on the loneliest highway in America to one of the most desolate and barren areas of America: the Great Basin region of Nevada. You also get to see the oldest living organisms in the world (the 4,000 plus years old Bristlecone Pine Tree), the darkest skies in America, glaciers, caverns, and the best breakfast you will have on an epic Route 50 road trip by snagging a room at the Stargazer Inn and food at Kerouac's. Oh yeah you can also scale up 13,000 foot plus Wheeler Peak in the least attended mainland National Park in the lower 48. This park boasts so many amazing attributes it's hard to comprehend the fact that many won't make the four hour drive from Vegas. The drive is intimidating given the lack of what you will encounter but if you have spare tires for emergency use (and know how to fix a flat), a few gallons of water, and a full tank of gas when leaving Ely Nevada or Delta Utah (depending on if you leave from Salt Lake City or Vegas) you will be there before you know it!  
Celebrate the epic summit of a beautiful and rugged mountain summit with a cold one at T&D's in the Baker Nevada town (population 73) and say hi to owner Terry for me. He picked up the tab on a round for me last time I was there. See a side of Nevada you didn't know existed.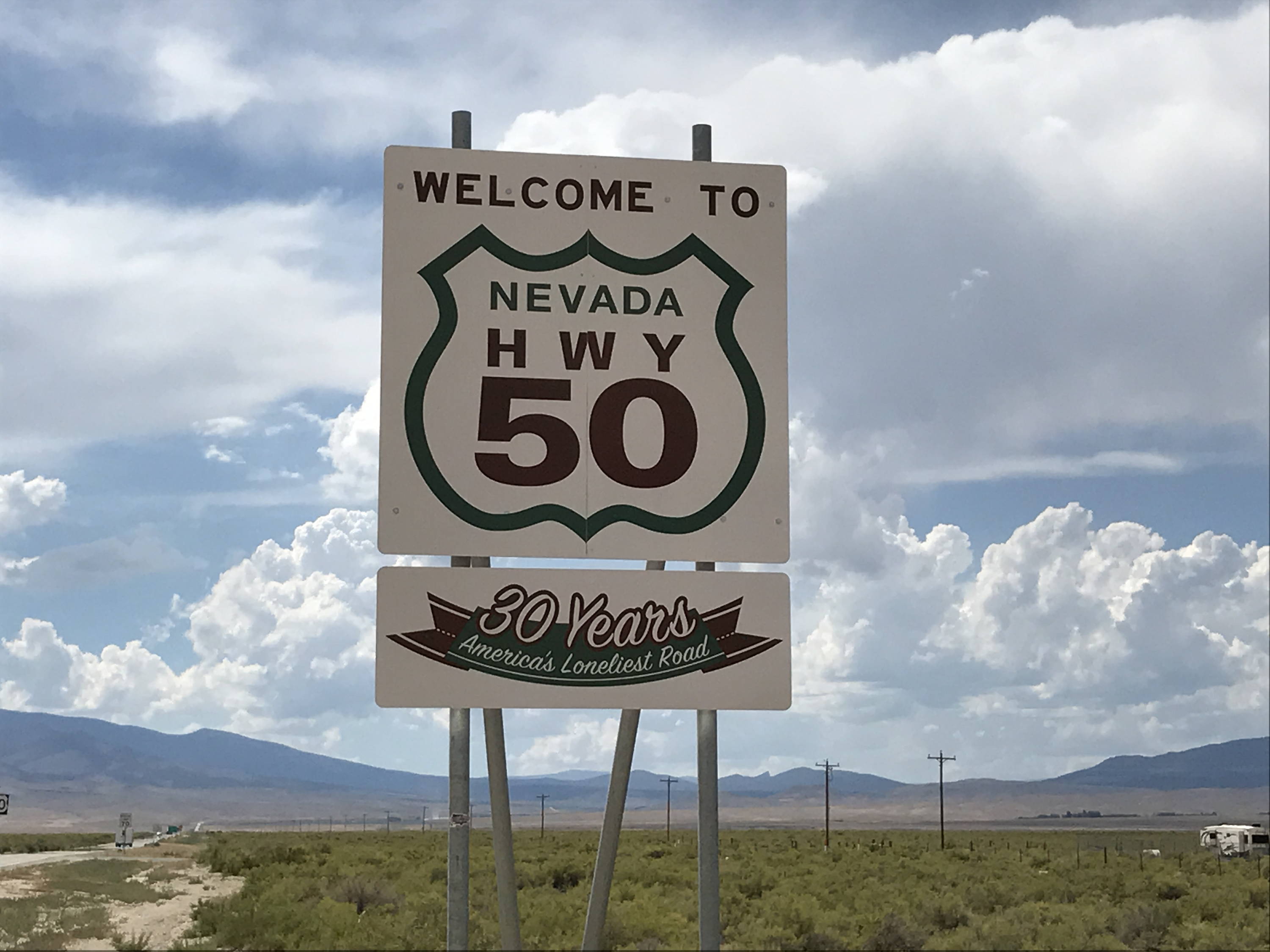 Bear Mountain: Sedona, Arizona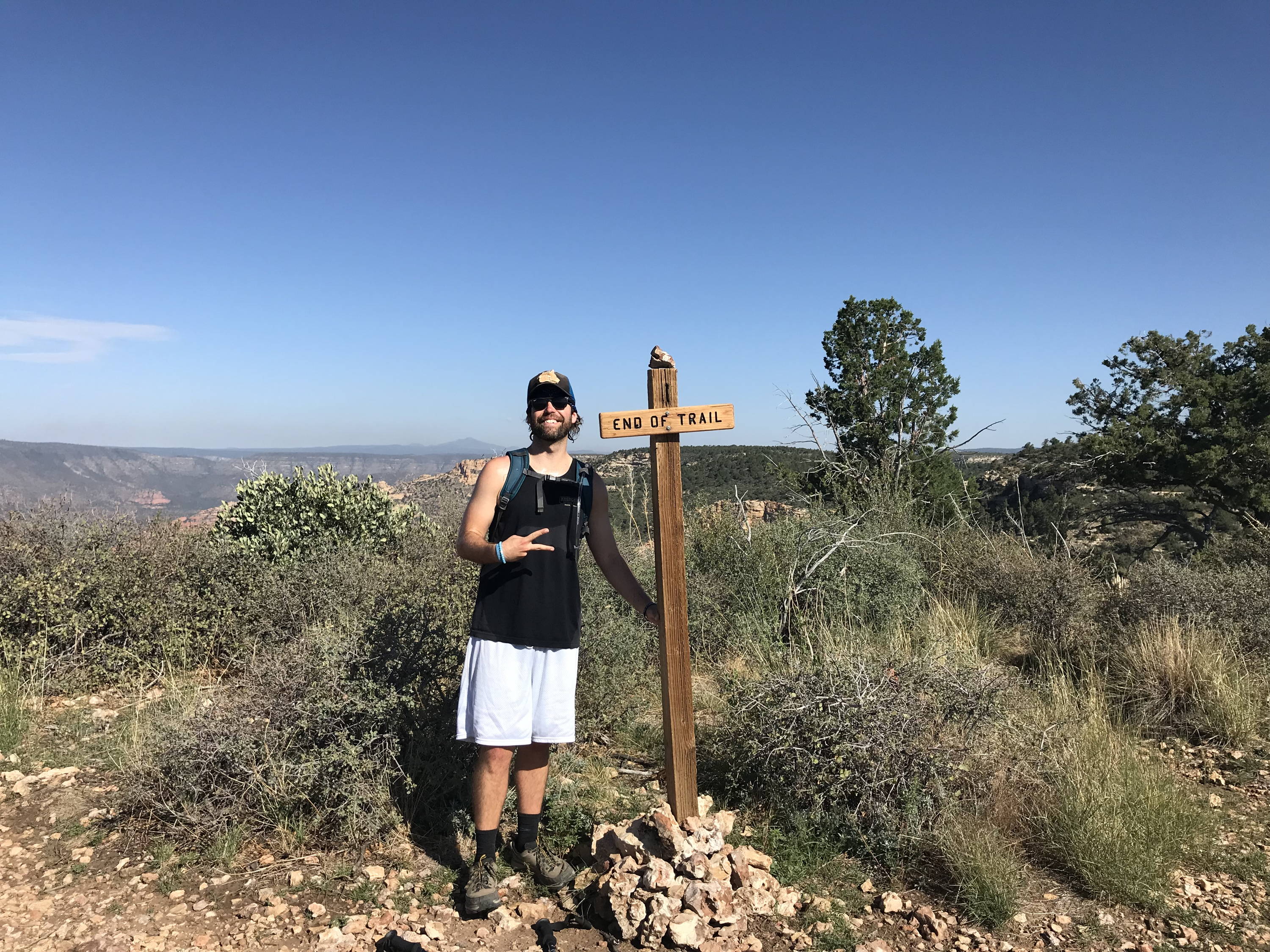 It can't be just about the National Parks can it? Sedona is home to some of the most righteous and dandy day hiking in the country that it should be a National Park. But the red rocks belong to the city of Sedona and no passes are required. Head out to the trailhead of Bear Mountain and be prepared to follow the pit cairns, white markers, and the false peaks. Bear Mountain is famous for its false peaks and on my first ascent I thought three different times I made it to the top of this several mile scramble up the steep red rocks of Arizona. Each time I was fooled! Eventually there is nowhere to go but to the clouds above and you'll know you have reached the top with the sign declaring "end of the trail." Sit down and enjoy the views, rest your sore feet, and head back to town for a wine tasting or a sud at Oak Creek Brewery (about as un fancy of a fun place as you can find in the craft beer scene or in all of Sedona.)
No national park, no nature preserve, and no national forest. Just an epic hike on public lands that will give you one of the finest hikes in all of the Southwest Desert...and have you home for dinner.
Mount Katahdin: Baxter State Park, Maine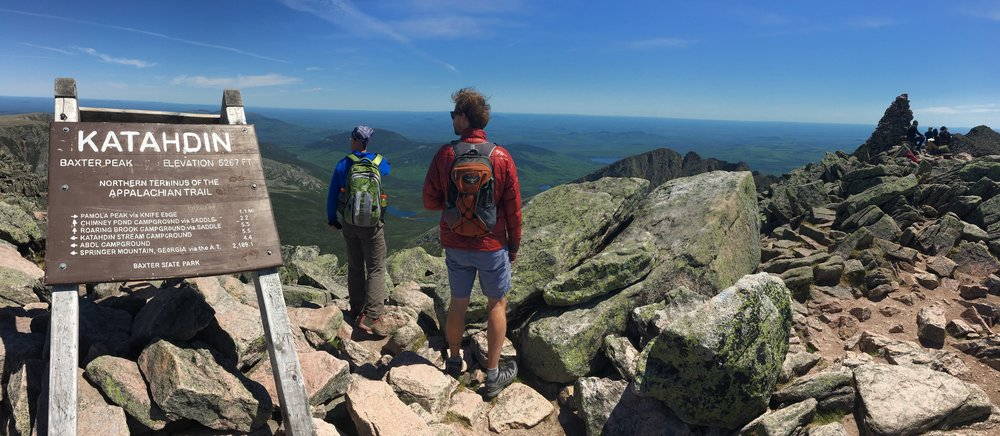 This is the only one of these hikes on the list that I have not personally done. Perhaps I am including it as a way to motivate and inspire myself to get to the summit as quickly as possible! There are two unique and interesting items about this strenuous day hike. It's the highest point of Maine at over 5,000 feet and it is the finishing point/end of the 2,000 plus mile Appalachian Trail!
Folks who begin in Georgia sometime in April or May and thru-hike the entire AT get to finish here. You might be thinking that since it's only 5,000 feet it's not much of a doozy however I don't want you to be mistaken. This is a HARD day hike and my friends who have done it have ranked this up there with any high altitude hiking out in the Rockies. You have to secure permits, show up at the entrance of the park at 4am if you don't get one of the few camping passes to be allowed in, and even one of the routes names is referred to as the "Knife Edge" Trail. The Penobscot Indians translate the name of this to the Greatest Mountain and I believe any mountain that finishes a trail that starts in Georgia and ends in Maine deserves a name like that.
The wind rips, the hiking is steep and sketchy, and it's going to take about 8-12 hours for the full day. That's of course assuming you were there early and didn't have to wait a long time to be entered into the park through the ranger station line.
It's all worth it though and once again you will be back to your cabin or campsite (this is pretty rustic off the grid Maine I don't think you'll be back to a hotel) by dinnertime or a tad later!
Climbing a mountain doesn't have to take weeks away from your job or sleeping on the side of a cliff in a broken tent (once again watch Meru). It can be just part of your day; same as a long run on the treadmill, a hot yoga class, or a krav maga workout at your favorite spot in your city.
I have done several dozen day hike mountain summits in the country and these are four of my favorites. They aren't Denali or Everest but there's still this special feeling of being at the top of a mountain that is hard to describe unless you do it yourself.
These are also still absolutely top notch workouts that will have you soaked and exhausted. Day hike mountain summits remind me of half marathons. They aren't "half of anything" and by the time you are done you will have put in the work required to let you say you bagged another summit that day! Happy Mountain Hiking my friends.  
Where's your next Conquest Maps Pin day hike taking you? Share in the comments below!
---
Mike Rudd is a 3 Time Author, yogi, outdoor and active events curator, marketing strategist, world traveler, speaker, and marketing/outdoors blogger. His marketing energy is located at MarketingFunWithMike and his outdoor adventure work can be found at Hashtag 59. Always spread good vibes.