Calling all soon-to-be-hitched thrill-seekers! Choosing a honeymoon destination can be daunting, especially for those who prefer excitement and adventure over lazing at an all-inclusive resort all day long.Check out these exotic options for the bold and daring couples among us. Let's get that adrenaline pumping and start your life together on a journey unlike any other!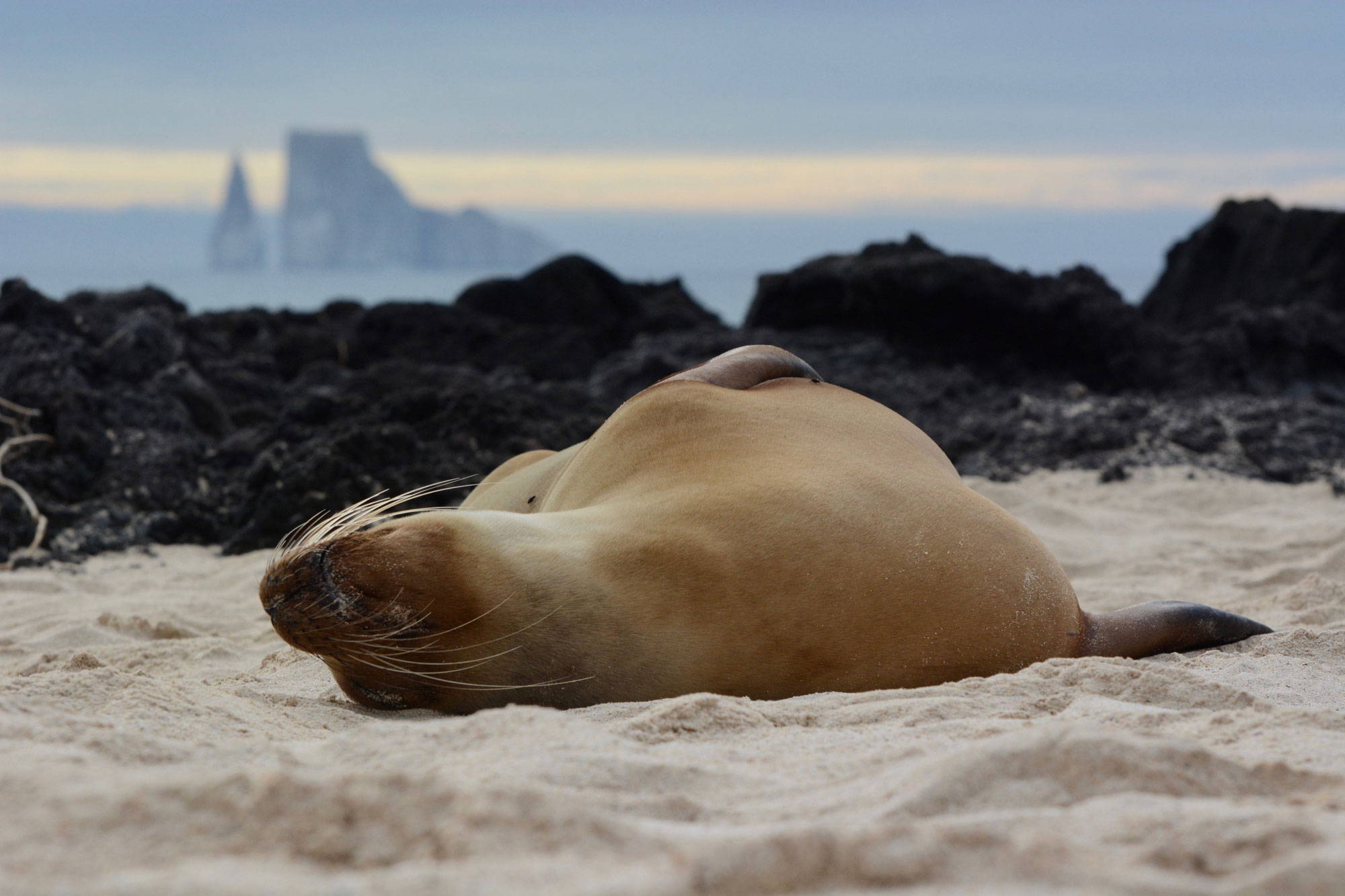 The Galápagos are a group of Islands in Ecuador that are covered in volcanoes and the most exotic wildlife and sea creatures in the world. Each island boasts a diverse landscape of its own, from black, volcanic rocks to pure-white sand beaches and topaz waters.
You and your partner can get up close and personal with gigantic sea turtles, playful sea lions, and friendly marine iguanas. Most wildlife species are unique to the Galapagos because of its remote location, making it an extra special experience!
Top Experiences:
Hike up to the summit of

Sierra Negra volcano

.

Snorkel among vibrant tropical fish in

Devils' Crown

or

Prince Philip's Steps

.

Check out the black lava shoreline of

Puerto Egas

.

Play amongst the penguins at

Tagus Cove

.

Visit

El Chato Tortoise Reserve

to observe the creatures in their natural habitat or

Isabela Island's Breeding Center

to hold a baby tortoise egg.

Surf in

Tongo Reef

or

Tortuga Bay

.

Cruise from

Santa Cruz

to the remote islands.

Dine with a view at

San Cristobal harbour

.
Best time to visit: Many tourists visit the Galapagos islands in December and January to get the most out of the sunny skies and calm waters. Although the cooler, drier season, from June to November, attracts the widest variety of marine life.
From snow-capped mountains to lush rainforests, pristine lakes and relaxing beaches; New Zealand has a range of breathtaking scenery. The remote location keeps the tourists at bay and the island's natural beauty untouched.
Beyond the beauty of the island, you won't have any shortage of fun with your spouse. Queenstown is dubbed the Adventure Capital of the World thanks to a wealth of extreme sports and activities.
Top Experiences:
Skydive, parasail or bungy jump in

Queenstown

.

Cruise through

Milford Sound

for whale watching.

Visit the

Te Anau glowworm caves

.

Abseil, canyon, or rock climb in

Waitomo

.

Helicopter ride above

Lake Wakatipu

for scenic aerial views.

Dolphin watch in

Auckland

.

Hike the

Tongariro Crossing

.

Drink Sauvignon Blanc in

Marlborough

.
Best time to visit: Any time of year! The climate is temperate without extreme hot or cold. It is often rainy in spring and autumn which keeps everything green. Summers are meant for relaxing at the beach, while winters are for hitting the slopes.
Keep the spark alive in the Land of Fire and Ice! Iceland has become a hot spot to visit over recent years, and for obvious reasons. Desolate roads lead to dramatic lava fields, turbulent waterfalls and ice blue waters - straight from a fairytale!
As you document your trip together, we can guarantee that you won't need a filter for these snapshots.
Top Experiences:
Take the 160-mile long

Golden Circle

route and stop at the

Geysir hot springs

,

Gullfoss waterfall

and

Thingvellir National Park

.

Take a romantic soak in the the

Blue Lagoon

geothermal spa.

Kayak through the

Eastfjords

along

Fossardalur

(Valley of the Waterfalls) and the cliffs of

Berufjordur

.

Explore a lava tube in

Cave Víðgelmir

.

Visit the

Skaftafell ice cave

on the frozen lagoon of the

Svínafellsjökull glacier

.

Ooh and ahh over the

Aurora Borealis

.

Seek out the black sand shores of

Reynisfjara

.

Check out the vibrant street art in the colorful capital city of

Reykjavík

.
Best time to visit: October to April to see the Northern Lights or June-August for warmer temperatures and the best hiking conditions.
Can you imagine a more romantic experience than a trek into history at one of the Seven Wonders of the World? Machu Picchu is an old Incan citadel made up of over 3,000 stone steps and surrounded by glorious mountain ranges. At the top, you and your honey will be greeted with breathtaking views of the surrounding ancient Inca ruins. Simply put, a hiker's picturesque paradise.
Top Experiences:
Classic Inca trail

for the iconic route of the Incans (4 days, 28 miles)

Lares Trek

for immersing yourself in Peruvian culture with the locals and spotting Andean wildlife such as parrots and foxes (4 days, 21 miles)

Cachicata Trek

for lush farmland, ancient Incan sites and stone-age petroglyphs, waterfalls, Cachicata quarry and burial houses (4 days, 15 miles)

Huchuy Qosqo Trek

for sweeping valley views, snow-capped peaks, and subtropical cloud forest (3 days, 11 miles)

Salkantay Trek

for subtropical farms and the summer residence of the Incan emperor (5 days, 34 miles)

Vilcabamba Trek

for snow-capped peaks, subtropical cloud forest, stone paths of the ancient Inca highway (6 days, 37.5 miles)

Inca Jungle Trek

for downhill cycling, zip-lining and river rafting (4 days)

Visit Machu Picchu's sister city,

Choquequirao

(The Cradle of Gold).
Best time to visit: April to May or September to October. The warmest weather is from November to March but it is also rainy season. Busy season is June to August when the trails are crowded with tourists.
Are you inspired to go bold for your first trip after tying the knot? Come share your favorite honeymoon location with the Conquest Maps community at For The Love Of Travel.